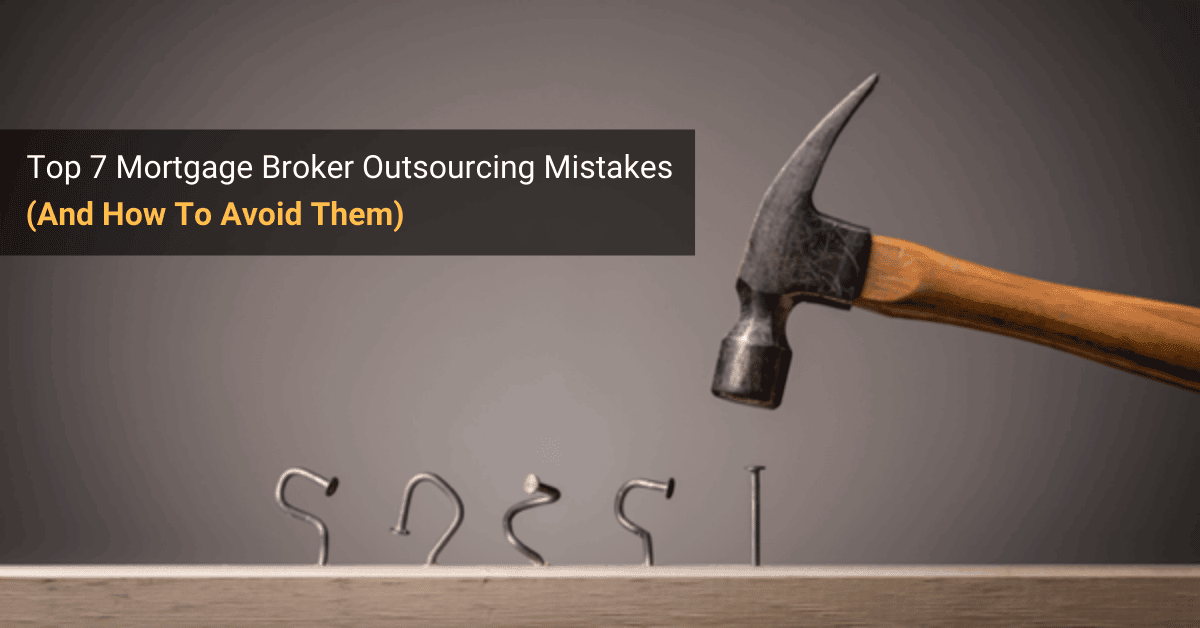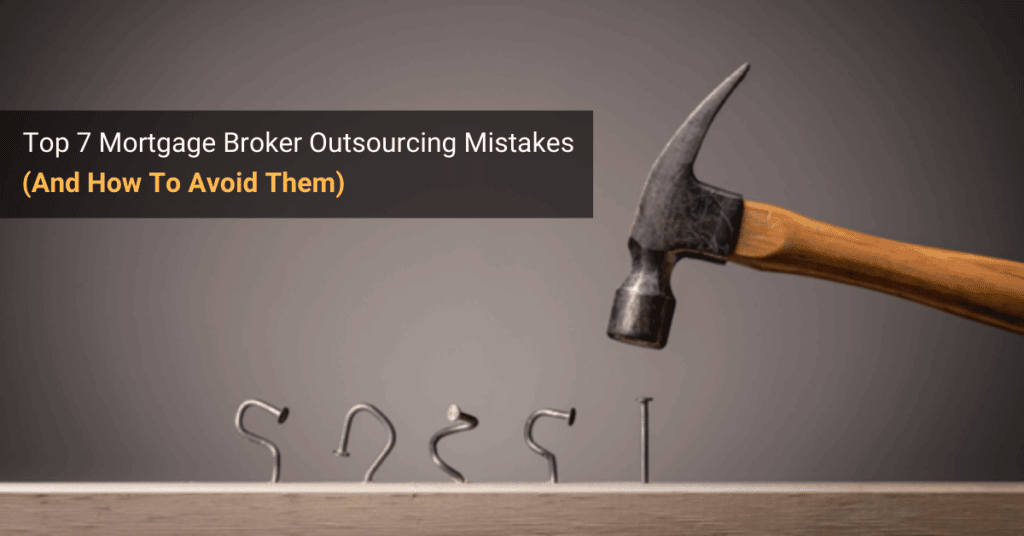 Over the last several years, increasing compliance burdens have caused a productivity crunch for mortgage brokers. Processing time per deal has ballooned, yet income per deal has remained the same.
Many brokers have responded by outsourcing some or all of their loan processing to a remote or offshore team.  While this can introduce efficiencies, like any new strategy, there's a right way and a wrong way to go about it.  
I've been outsourcing most of my loan processing to my team in the Philippines for over 7  years.  Here are some of the mortgage broker outsourcing mistakes I've made (or seen other brokers make) so you can avoid them in your own practice. 
Mistake #1: Starting by outsourcing the most complex work
When you first hear about outsourcing, it's easy to get excited by the potential. You start thinking about all the tasks that are occupying your time and preventing you from getting home in time for dinner every night.
As a result, you may shortlist 2 or 3 really challenging tasks (e.g. placing a tricky deal, working out tight serviceability) to "road test" the concept.
However, outsourcing the most complex tasks first makes it almost impossible to succeed.
Instead, I recommend you start with most standardised, process-driven and time consuming tasks first. That way, you can lock in some quick wins before ramping up complexity.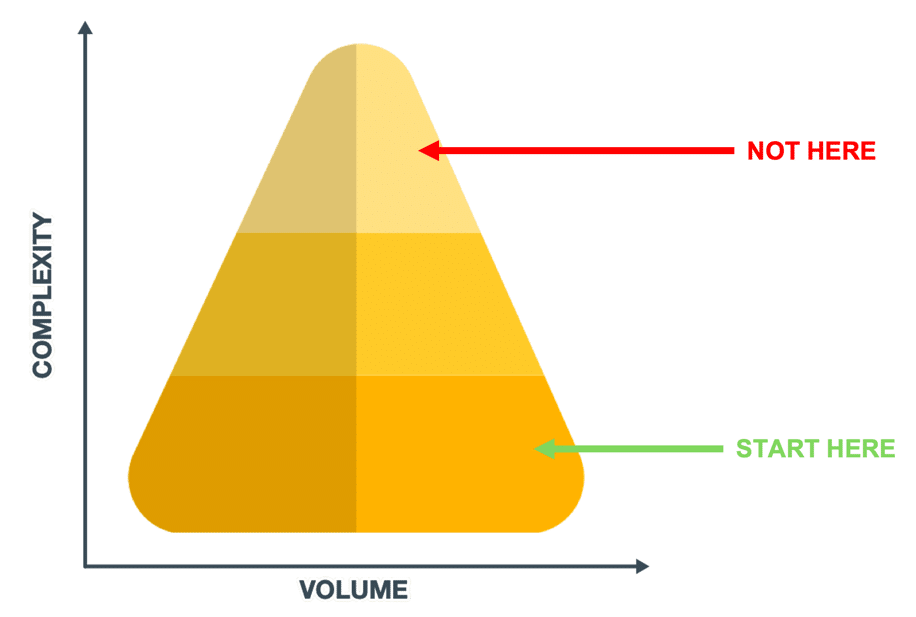 Mistake #2: Not creating standardised workflows
Without clear and comprehensive workflows, your outsourcing efforts will be much more time-consuming and difficult than you expected (and may even fail).
The mortgage broking assistants you hire offshore will be very hard workers and eager to do well. They are also excellent at following instructions. This includes BAD instructions.
When tasks are delegated without the proper context, your offshore team will have no way to meet your expectations.
The solution is to build robust systems and processes. This provides your team with the "train tracks" they need to stay aligned. It also gives you the visibility and activity logs you need to be confident everything is on course.
Working efficiently with outsourced team members is one of the biggest use cases for BrokerEngine software users.
Mistake #3: Going straight to client-facing roles

When mortgage brokers imagine the potential pitfalls of outsourcing, they sometimes visualise their new offshore team member struggling to troubleshoot a thorny servicing problem for their most sophisticated client.
You're right: that would be super-challenging and not the main use case for offshore outsourcing.
In my own practice, my offshore team members are non-client facing. They are broker-facing and lender-facing, but don't interact with clients directly.
My Australia-based Client Service Manager (CSM) and I (as well as my other brokers) retain the client service function, while our offshore team take care of the back office.
Client-facing roles are tricky, and I don't recommend adding them to the mix until you've mastered all the simpler functions first.
Mistake #4: Not understanding the culture and communication style

Most Western countries have a culture and communication style that is relatively individualistic, direct and results-oriented. Many other cultures (particularly in Asia) are far more group-oriented and indirect.
Resources such as the SBS Cultural Atlas on Filipino Culture are a good primer for explaining the differences (they also offer sections on India, Nepal, Indonesia etc.).
Here are a few practical takeaways for mortgage brokers employing staff in the Philippines:
Check for understanding. Team members may not want to admit they don't understand. Ask them to repeat back their understanding of a task if you're not sure you're on the same page.
Praise in public. Criticise in private. Like many Asian cultures, Filipinos have a strong sense of shame. Avoid triggering that in a group setting.
Get to know the whole person. Filipinos are very social and value deeper relationships with their colleagues. Taking an interest in family, hobbies and interests helps to create a deeper bond.
Provide clear goals and KPIs. Filipinos like working to targets, measuring results and hitting goals, so be sure to provide a clear scoreboard.
Mistake #5: Not making time for training and feedback

By the time many brokers get around to hiring more back-office support, they're usually already snowed under with too much work.
When you're busy, it's easy to move on to the next task before providing feedback on the last one. And it's also easier to fix small mistakes yourself instead of asking them to be fixed – but only in the short term.
In the longer term, if you're unable to fully and confidently delegate work, you'll fail to realise the benefits of outsourcing.
Part of the solution is to make all team members responsible for creating systems and processes for the team to follow. Your aim should be to only provide the same feedback once. The expectation is that your staff and your systems will get better and beter as you continue to refine them.
Mistake #6: Not establishing Metrics / KPIs

Metrics and KPIs are a clear way to set expectations and measure outcomes. They also provide an answer to the question, "What represents good work?"
Some of the KPIs I use in my practice include:
Productivity targets (e.g. do X of this type of job per day, process Y loans per month)
Turnaround times
Error / rework rates to minimise
Number of system improvements made
KPIs will evolve as a team member grows in skill and experience.
Mistake #7: Not fully integrating your offshore team members into your practice

If you think of your outsourced team members as, "the offshore workers" rather than an integral part of your firm, you'll end up with a sub-optimal outcome. Brokers who fully integrate all team members enjoy tremendous productivity gains.
Practical ideas for achieving this include:
Ensuring that all team members in all locations know each others' faces and names.
Sharing and discussing your firm's mission, vision, goals and values.
Celebrating team members' birthdays and other important dates
Finding out about your families and close social connections.
Recognising important national holidays.
Turning on cameras when meeting on Zoom.
Where possible, visiting each others' offices in person.
The idea is to think of your practice as one company working from multiple offices, not multiple companies in multiple offices.
Next Steps
Offshore outsourcing isn't the only way to gain more back-office capacity, but it is a popular option that works when done right.
By avoiding the top 7 mistakes, your chances of success go way up. Depending on where you are now, you may wish to consider these next steps…