Free Webclass:
How To Add $1M To $3M Per Month
To Your Mortgage Broking Practice
In The Next 90 Days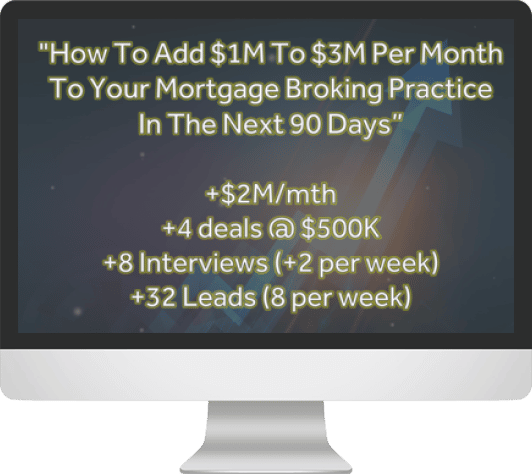 Discover Proven Strategies To Earn More and Work Less, While Delighting Your Clients, Including:
The 5 Core Systems for growing your practice on autopilot (Lead Generation, Sales, Referrals, Retention, Replication), and how to prioritise each one.
WHY most brokers hit certain predictable "sticking points" as they grow their practice… WHAT these sticking points are… WHEN they show up… and HOW TO solve them at each stage of growth.
The 3 Essential Building Blocks of Mortgage Lead Generation and a specific example of how to deployed them in your practice to generate an avalanche of leads every month.
The 10-step Mortgage Broker Facebook Ad Template you can "swipe and deploy" in your own campaigns.
The Ideal Mortgage Broker Landing Page Template that converts raw traffic into qualified leads that you can close.
Why the typical Mortgage Broker Sales Process is BROKEN, and how to Re-Engineer Your Sales Process for effectiveness and efficiency (this works even if you already close almost everyone you meet, because you'll be able to do it faster and with less effort).
How to add $1M to $3M in mortgage settlements per month, using the specific strategies covered in this webclass.
This webclass will cover ONLY proven strategies that have worked in the real world.
You'll get specific strategies and takeaway value from this webclass that you can use right away grow your practice.  If you'd like our help implementing these strategies (and more), then we'll also explain how you can work with us further.  However, there is no obligation and this is completely optional.
What Fellow Mortgage Brokers Are Saying
"We're on track to consistently hitting $10M in settlements per month (if not more). Previously, we were close to $6M."
"Craig & Will shared very specific, step-by-step processes for freeing up more of my time."
"Craig & Will have helped streamline what I'm doing, cut out the things that are wasting my time and delegate more to my staff."
"A team of experts who can help get your business to a stage where you are making more money, bringing in more consistent leads."
"We want a business where it's possible to take holidays without things falling over. That's one of the reasons Craig's story resonated with us so much. He's done exactly that."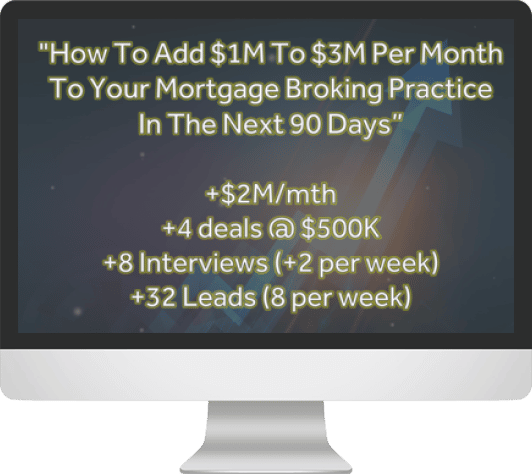 Free Webclass:
How To Add $1M To $3M Per Month
To Your Mortgage Broking Practice
In The Next 90 Days