Want To See BrokerEngine In Action?
Watch this BrokerEngine Explainer Video
WATCH HOW SIMPLE IT IS TO WRITE MORE LOANS IN LESS TIME AND WITH LESS STRESS
Request a demo
The old way...
Relying on a disconnected mish-mash of aggregator software, spreadsheets, calendar reminders, manual checklists and more…
Time-Consuming Compliance
Labour-Intensive Processes
Error-Prone Systems
Built By IT Geeks
Lack Of Visibility
Elevated Stress Levels
Hard To Find And Train People
Working Harder and Harder For Every Dollar
The new way...
Brokers can boost volumes by 20% (or more) when they run their practice on BrokerEngine…
Streamlined BID Compliance
Workflows & Automation
Error-Proof Systems
Built For Brokers, By A Broker
Real-Time Visibility
Reduced Stress
Easy To Scale Your Team
Higher Productivity and Profitability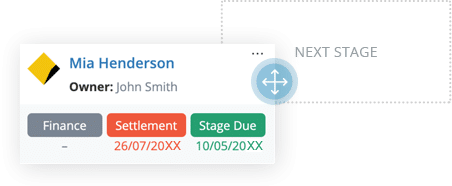 Status Dashboards
See Deal Status at a glance so you can home in on highlighted issues and alerts. Add more dashboards for Home Loans, Commercial, Asset Finance and more.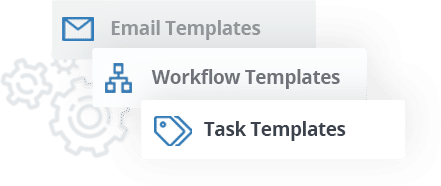 Custom Anything
(Well, almost anything!) Add Custom Dashboards, Stages, Emails, Tasks, Checklists & Business Rules to suit your team and your workflow.

Workflow Engine
The most powerful workflow engine in the Brokerverse! Start with our default workflows ready to go, out-of-the-box. Then customise a little or a lot.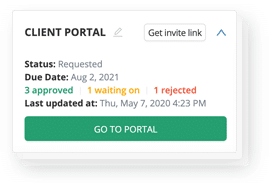 Client Portal
Save hours per deal by collecting client info and supporting documents via our FinanceVault portal. (Integrates with illion, CashDeck and DocuSign.)

Broker Wizard™
Quickly AND accurately hand over every Deal, automagically creating deal-specific workflows and checklists to ensure nothing gets missed.

1-Click Workflows™
Add detailed sub-workflows with just one click to manage loan features such as FHOG applications, lender rebates, guarantor loans and over 40+ more.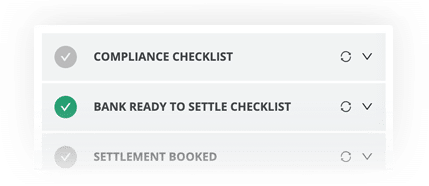 Deal-Specific Checklists
Every Deal is matched with a customisable checklist, reducing errors and shortening processing times, even when things get hectic.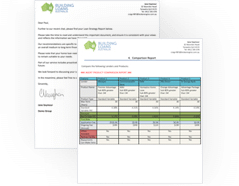 Loan Strategy Report™
Generate customised proposal documents that communicate your strategy with ease and close more deals in less time.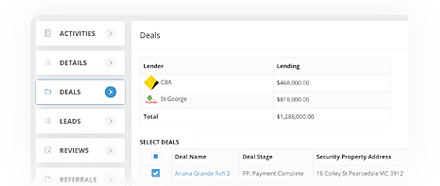 Client Snapshot™
See your entire client relationship on one screen, including past, current and proposed lending, so you can provide great advice without hunting for data.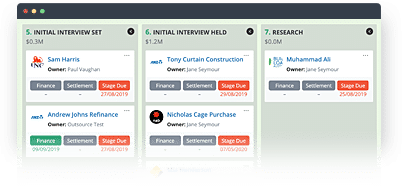 Lead & Sales Management
Ensure precious leads and sales opportunities never slip through the cracks so you can close more business.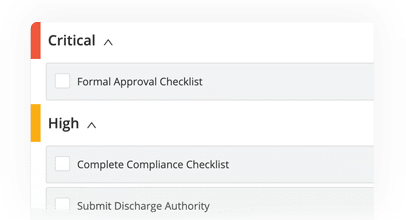 Auto-Prioritised Tasks
What should every team member do next? The smart task queue provides a real-time "to do list" that manages priorities and maximises throughput.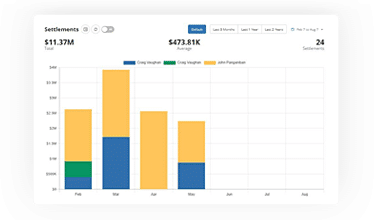 Predictive Metrics
Other mortgage software will tell you how you did in the past. Our metrics tell you how your future settlements are tracking, so you can take action now to move the needle.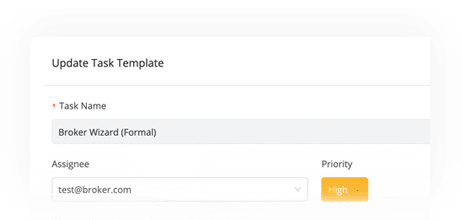 Email & Task Templates
BrokerEngine comes pre-loaded with over 100 professional email and task templates for you to customise, saving you dozens and dozens of hours.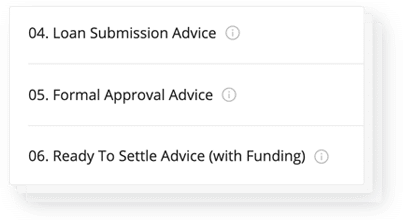 Advice Documents
Generate professional client-facing Advice Documents at key moments in the lending lifecycle (e.g. Approval, Settlement, Review).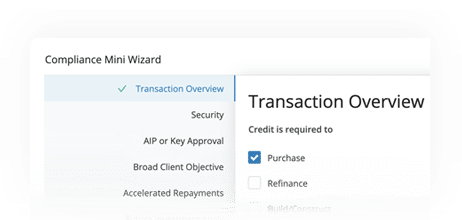 BID Compliance
Best Interests Duty (BID) places additional responsibilities on brokers. Our tools help you comply and still save time.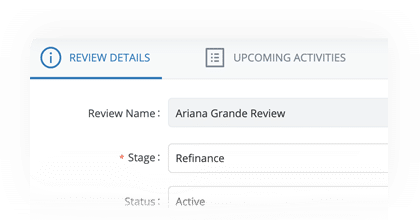 Proactive Loan Reviews
Proactive Loan Reviews put an iron fence around your client base and surface new revenue and referral opportunities.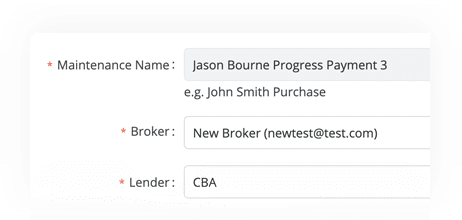 Maintenance Workflows
Streamline loan maintenance such as construction progress payments, variations and switches to provide fast and efficient service to every client.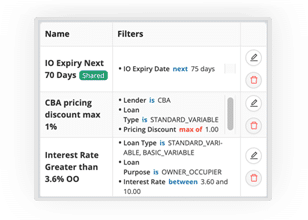 Client Segmentation
Slice-and-dice your client data based on lender, interest rate, loan type, payment type, settlement date and more to ensure you're always on the front foot.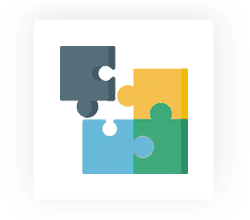 Integrations
BrokerEngine integrates with a large and growing number of other software applications including AFG FLEX, Connective Mercury, illion BankStatements, CashDeck, DocuSign, Quickli and more.
Plus A Host Of Other Additional Features, Including...
Multiple Brand Support
Australia-Based Hosting
2-Factor Authentication
Cloud Hosted
Works With Any Team Structure
Works With Any Aggregator
Super-Fast Support
Detailed Knowledge Base
Customisation Support
90-Day Money Back Guarantee
Get Started With BrokerEngine
All these features are waiting for you inside BrokerEngine.
Click below to request a demo — we'll show you exactly how you can save time, money and stress and grow your loan book faster than ever before.
Request a Demo