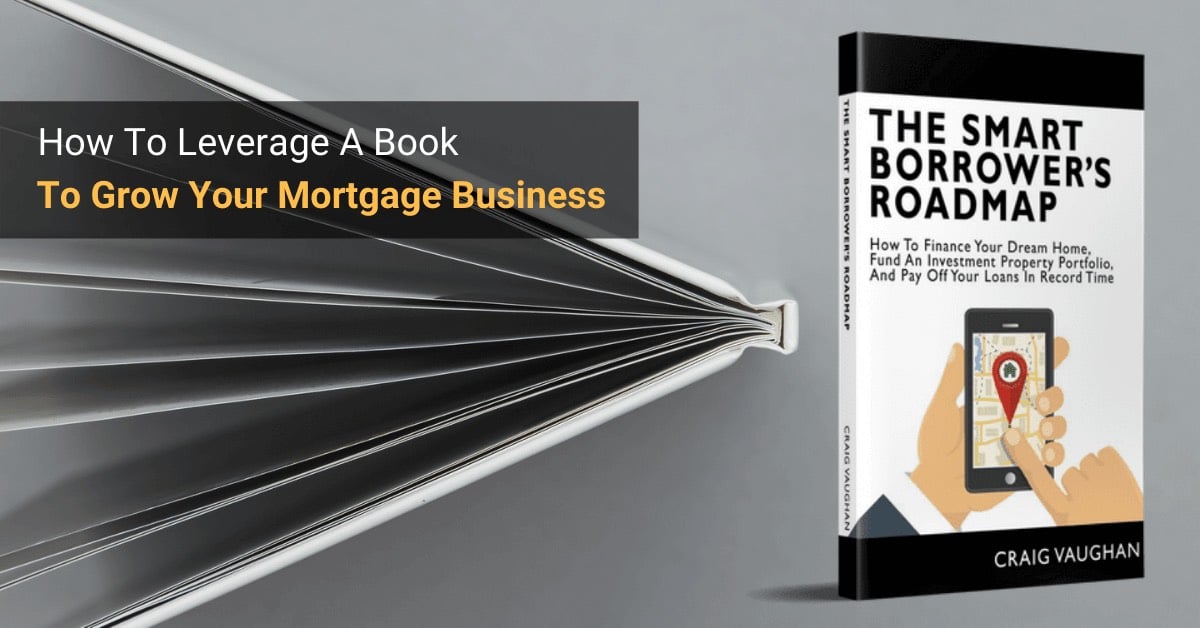 As a mortgage broker, you may never have thought about publishing a book. Or, perhaps you've thought about it but haven't found the time to get it done.
In this article I'll outline the process of publishing a book, and share with you a detailed case study of my recent book launch, plus share the results of 5 Book Marketing Campaigns I've been using to attract more new, repeat and referral business.
TABLE OF CONTENTS
The Story So Far
Back in 2012 I wrote a book called "Buying Property In Australia: A Guide For Non-Residents". It certainly wasn't a work of literature, but it did prove extremely useful as a marketing tool.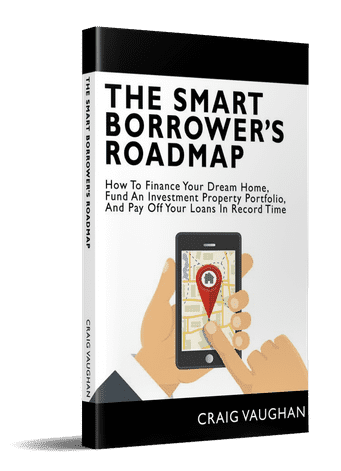 Last year I decided to completely rewrite and revamp the book, and bring in extra editing, proofreading and production support. The result is The Smart Borrower's Roadmap.
The book has only been "live" for a few months but I'm already seeing great success from the various marketing strategies I've been testing out.
Read on to see exactly what I'm doing and how it's working…
Why Publish A Mortgage Broker Book, Anyway?
You may wonder what a mortgage broker is doing publishing a book in the first place. Here are the first 7 reasons why I went to all the trouble:
Author = Instant Authority. When a prospect or client sees your book cover or holds your mortgage broker book in their hands, a switch gets flipped in their brain. They immediately make the connection that you're a genuine expert. They don't even have to read the book (many won't). And yet, that doesn't even matter. All they'll remember is that you literally "wrote the book" on home loans.
Extreme Differentiation. If a prospect is considering three brokers to work with, who will they choose? The one who wrote a book.
Ready-Made "Shock and Awe" Pack For New Prospects. Whenever I get a new lead, I simply send them my book, plus a copy of my Case Study File. This totally pre-sells clients before we speak. BOOM!
Attracting NEW Prospects. Downloadable PDFs make good "lead magnets"… but it's hard to come up with something fresh and original. Yet when you offer a book as a Client Magnet (either Paid, Free, or Free-plus-Shipping), prospects automatically "get" the value. That's because they've already been conditioned to pay at least $20 for a book.
Building Your Email List. Ideally, your book should also offer extra "Free Bonuses" like the ones I give away at www.smartborrowersroadmap.com.au. This simple page is growing my list of engaged prospects while I sleep.
The Ultimate Referral Tool. Rather than relying on unpredictable referral streams where you're hoping the other party will mention your name, you can simply give your clients or referral partners TWO books – "one for you and one for a friend". This works like magic to motivate more clients to refer. It also prompts more referred people to actually get in touch with you.
Education-Based Marketing. Instead of "selling" clients on doing business with you, you become part of the education process that causes clients to convince themselves they want to work with you. Big difference.
I could go on, but you get the idea. Now let's explore a little deeper with some actual examples of how I'm using my book to write more volume with less effort…
Strategy 1: Sent 48 Existing Clients 2 Copies Each, Generated $18,265+ In Upfront Comms (So Far!)
I started by sending two copies of my book to 48 existing clients, along with a 1-page cover letter. This simple campaign started to generate results almost immediately. Here are some of the deals that have resulted so far (*client names changed):
| | | | |
| --- | --- | --- | --- |
| New Client | Referred By | Deal Type | Evidence |
| Walter and Sally R | Matt G | $900,000 loan on $1M purchase FHB. | I haven't had a referral from Matt in 8 years of working with him. When Walter and Sally called, I offered to post a copy of the book. They said Matt had already given them a copy. |
| Sarah and Pete F | Sam and Leanne | Preapproval for $800K 100% investment loan. Possible refi of OO $590K. | Sarah and Pete were looking to buy a new home and were asking around. Sam and Leanne had just received a copy of my book, so it was top of mind. |
| Greg and Carol | Mike W | $520,000 guarantor home loan. | Greg works with Mike. Greg and Carol are about to buy a new home and are having trouble due to guarantor requirements. This one I'm confident is a result of the book as I have not had a referral from Mike before, and Greg already had a copy of my book. |
| Total New Business? | | $2.81M in lending, Upfronts of $18,265, plus annual trail of $4,215. | |
The best part is, I've only just started to scratch the surface. These are just the first 48 clients out of my entire back book.
I'll keep posting out books on a staggered basis and continue to receive an influx of pre-sold prospects and warm referrals.
I'm already finding that clients are starting to look for people to give their spare copy to, just like you see here…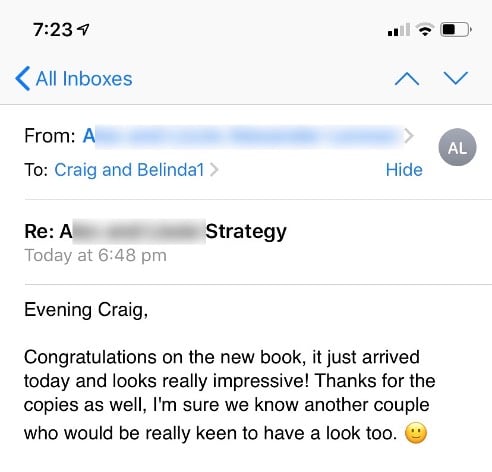 Strategy 2: Using A Mortgage Broker Book As A Simple Pass-Along Tool To Help Partners Refer New Business
The above examples are CLIENT referrals, but I've also been using the book to stimulate PARTNER referrals:
| | | | |
| --- | --- | --- | --- |
| New Client | Referred By | Deal Type | Evidence |
| Viv G | Property Marketer Referral Partner | $600K loan with upfront of $3,900. | I gave a box of 10 books to a property referral partner to give to clients. This adds value to him (because finance approval will grease the wheels of a property sale), and it also works for me and the client too! |
To be fair, I possibly would have received this referral anyway, so I'll count this one as "cream".
However, this is a great strategy to roll out with those partners who "say they'll refer, but never do". Now, all they have to do is drop a book into their client's hands and let the book do the work.
Strategy 3: How To Build An Iron Fence Around Your Client Base
While every broker loves new client acquisition, Retention and Re-Engagement are also critical if you want to build an iron fence around your client base.
Because let's face it: a client who doesn't respond to emails or texts is an "at-risk" client. Here are just a couple of examples where I've already begun to re-engage clients who were proving difficult to get hold of.
| | | | |
| --- | --- | --- | --- |
| Client Name | Issue | Contact History | Result |
| Clint M | IO period was expiring in the next 12 months. I wanted to get on the front foot because I knew this client would want to extend. | Emailed several times over the past 3 months and also called. No response. | See Exhibit 2 below. Client re-engaged. Trail of $600/yr is now protected, plus potential refi opportunity with upfront of $2,600. |
| Meg C | Guarantor loan – values have gone up and I'm keen to discuss removing guarantor. | Had emailed and left a voice message. No response. | Client replied via text (see Exhibit 3 below). Trail of $480/yr is locked in, plus potential upfront of $2,080 on refinance to remove guarantor. |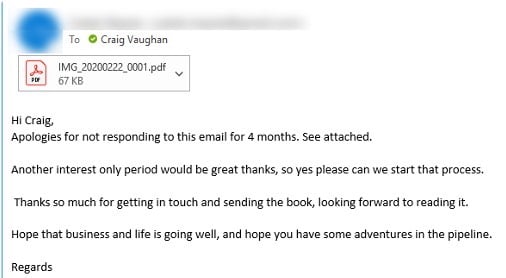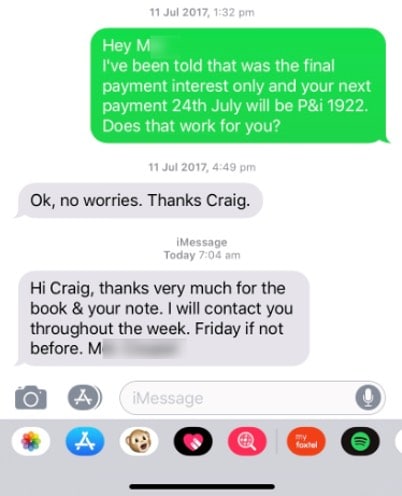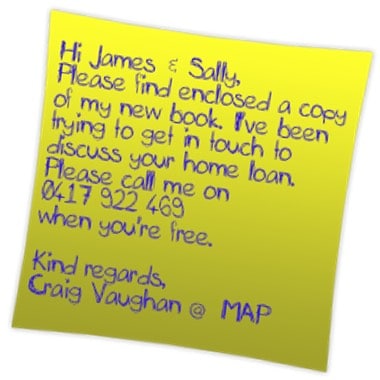 So far we've covered using a book as a client referral, partner referral and repeat business generator.
The next strategy is to use the book content itself as a slow-burn education tool to seed FUTURE business.
Strategy 4: Seeding Future Business With Your Book Content
Now, whenever I have a conversation with a client about a strategy they may be considering, I just say, "Turn to page XX of my book to read more about it…" or "Check out the case study on page XX of the book".
Here's an example: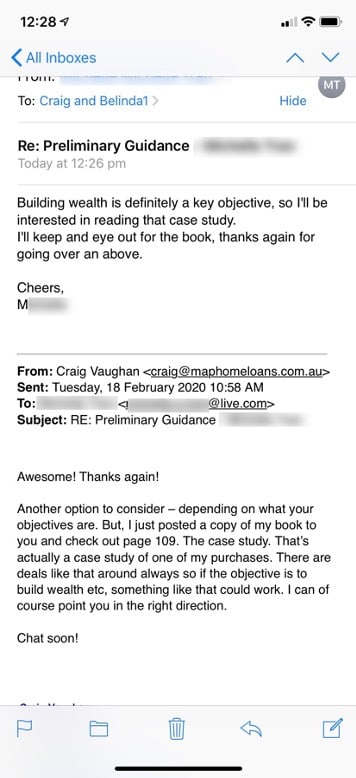 Here's the thing: when you have an "information asset" such as a book in your marketing arsenal, there are any number of ways you can deploy it to your advantage.
Strategy 5: What About Warm Lead Generation? Try This Free-Plus-Shipping Campaign
To prove that a book can generate new clients as well as re-engage existing ones, I've just started running a "Free Plus Shipping" offer on Facebook, targeting new clients.
Here's how it works:
I offer my book on social media "Free of charge, just pay $5.95 for shipping".
I lose about $7 on every book I ship (plus any marketing costs), but this is a tiny price to pay to acquire a pre-qualified lead. It's a classic "loss leader" strategy.
Because I'm asking the prospect to make a small financial commitment, I instantly eliminate freebie-seekers who just want to kick the tyres and already have a hard drive full of PDF Reports gathering "e-dust".
And, because the offer is so compelling ($25+ value for $5.95), my cost per lead is drastically reduced, compared with more conventional offers.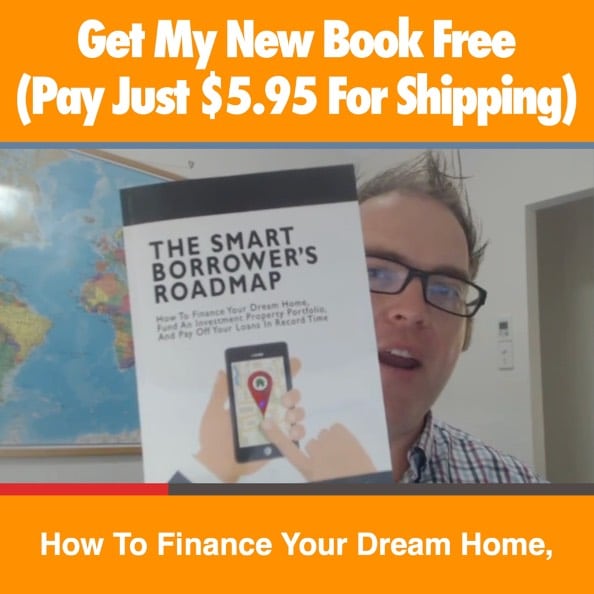 It's early days yet, but I believe this will become my most cost-effective new customer acquisition method yet.
"OK, So The Benefits Are Obvious…
But What's Involved In Publishing A Book?"
Just the handful of strategies we've already covered more than justify all the time, cost and effort involved in publishing a book.
So let's look very briefly at the process that I went through in order to get my book to market.
To start with, here's a process diagram before I break down the costs below: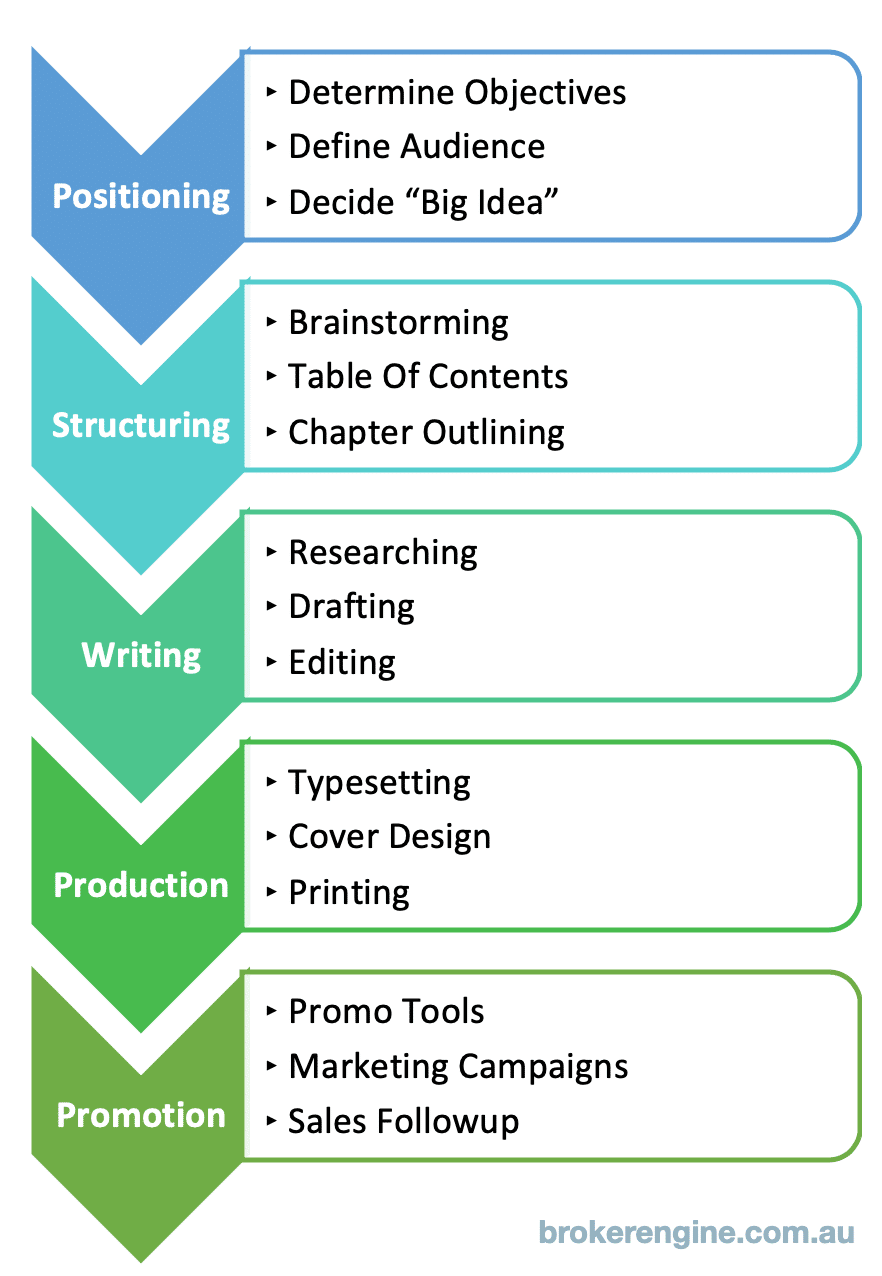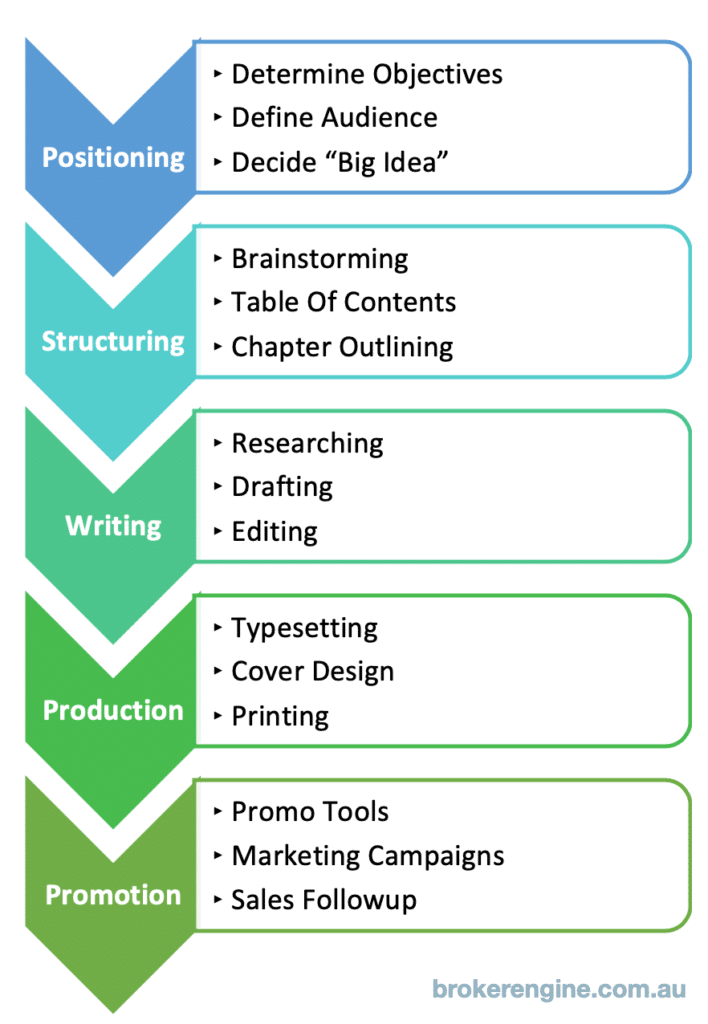 Firstly, the TIME COSTS:
From drafting the Table Of Contents, to finalising the manuscript took me 10 months.
I estimate that researching, writing and re-writing the draft took 150 hours.
Then all the post-production (project management, sourcing and vetting suppliers) took at least another 20 hours over 2 months.
All up, that's 12 months and 170 hours from go to whoa.
Now the MONETARY COSTS:
The biggest cost was my labour. 170 hours at $100 an hour is $17,000. Or, to look at it another way, how many loans could I have written in that 170 hours? I conservatively estimate at least 17 loans, with an average commission of $3,000 = $51,000 in upfront comms, plus another $12,000 in trail x say 3 years, which is another $36,000. Total: $87,000.
Editing: $3,000
Proofreading: $1,600
Typesetting: $350
Graphic design of images and diagrams: $400
Cover Design: $350
So all in all, getting ready to print "Copy #1" cost:
170 hours of my time
12 months
$5,700 in hard costs
Then, once the book was ready to go, I printed up my first run of 400 copies for $2,724 ($6.81 per copy).
So as you can see, the ongoing printing and production costs are reasonable, once your book is "in the can", but the time and opportunity costs are substantial in order to get there.
You may wish to take some of the processes and ideas from this article and Do-It-Yourself.  It does take a lot of time and effort, but I would argue that the effort is well worth it.