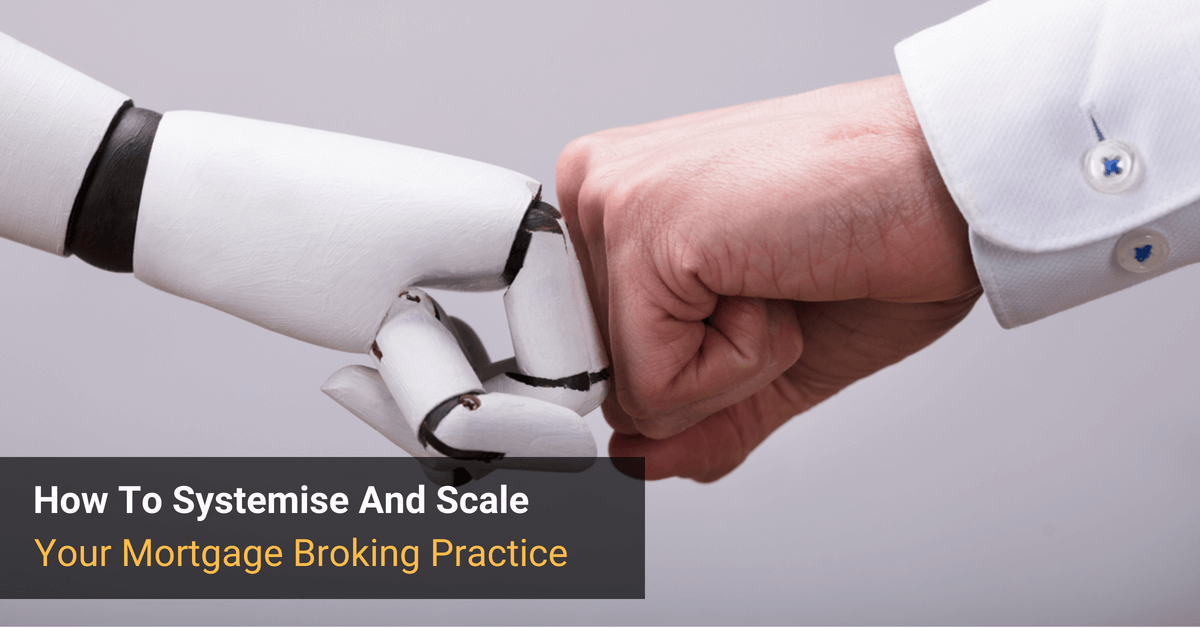 If you've ever attended seminars on growing your mortgage broking practice, you may have noticed that building robust mortgage broker systems is often presented as one of the keys to successful scaling.
In this article we'll explore why the traditional method of creating business systems – the "Standard Operating Procedures Manual" – is NOT sufficient to get the job done in the mortgage broking industry.
Instead, we'll unpack the THREE components that we call the Triangle Of Transformation, in order to thoroughly systemise your practice so you can achieve quality growth.
Why You Need Systems To Scale
Robust internal systems enable you to achieve revenue and profit growth, while maintaining quality and client experience.
Here's a simple diagram to illustrate: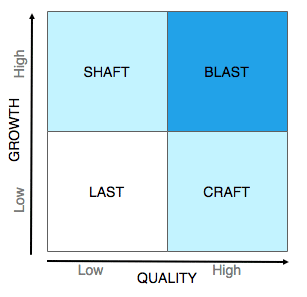 When you have a Low Growth Rate and Low Quality, you're in LAST place (and let's face it, you'll be lucky if your practice lasts over the long term).
When you have High Quality but Low Growth, it's likely you're in "CRAFT", or "Craft Shop" mode. You're like an expert artisan who is great at their craft, but is unable to get everything they know out of their head so that other people can offer the same standard of service to more customers.
On the other hand, if you were to focus on High Growth through marketing and selling, but lacked the appropriate systems to maintain service quality and customer experience, then you'll end up giving your clients the SHAFT. At best, you'll burn through all the goodwill you've created very quickly. So you might experience a temporary surge, but it won't be sustainable.
However, when you have both High Growth and High Quality, you'll have a BLAST, and your practice will be in a position to blast off toward the stratosphere.
OK, maybe I've stretched the metaphors a little with this one, but you get the idea: solid systems allow you to create sustainable growth.
5 Problems With Traditional Systemisation Approaches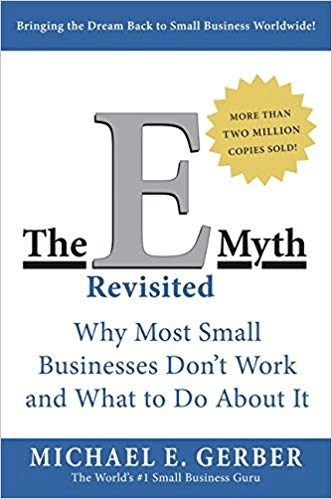 If you agree that systems are the pathway to unlocking quality growth in your practice, then how do you go about putting them in place?
The standard answer is to "create a manual of Standard Operating Procedures" or SOPs, to ensure that everything is done "one best way".
This idea is one of the key tenets of The E-Myth, perhaps the most well-known book on building a business that works without you.
There's nothing wrong with Standard Operating Procedures. In fact, they are a very GOOD thing. But if you've ever tried creating them for your practice, then you may have run into a few challenges.
Some of these include:
Standard Operating Procedure Manuals take a lot of time to create (often hundreds of hours). This is time that pulls you away from client-facing, dollar productive work.
In order to be useful, SOPs have to be created in sufficient detail to cover off all situations. It's not easy to split off "just the main points" and still create systems that work. As you know, when it comes to lending, missing even one tiny detail can derail an entire deal.
Processes and procedures in the broking and lending space are extremely detailed and ever-evolving. So as soon as you finish creating one set of SOPs, they begin to get out of date.
SOPs that are in "manual" format are hard for brokers and team members to access and use at the coalface. (An SOP manual that gathers dust on your bookshelf isn't useful.)
You can have all the SOP manuals in the world, but if you have no way of actually verifying that the job was done according to the SOPs, then standards will tend to slip.
Due to these factors, most mortgage broking firms don't get to a point where their practice is systematised AND scalable.
So, if the standard approach doesn't work, what's the answer?
We call it The Triangle Of Transformation.
The Triangle Of Transformation: Processes, Tools & Checklists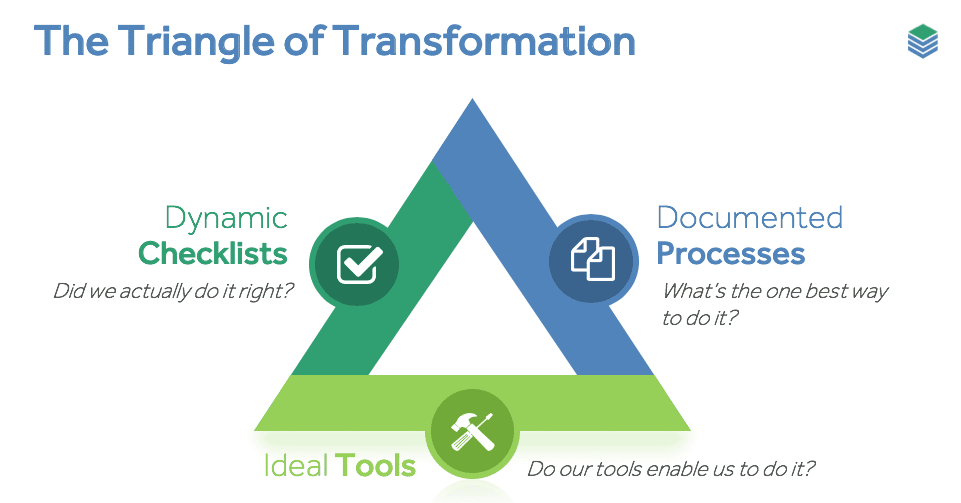 The Triangle Of Transformation is a concept that is designed to create sustainable and scalable systems in your practice. There three components:
Component 1: Documented Processes: What's the one best way to do it?
Component 2: Ideal Tools: Do our tools enable us to do it in line with the documented processes?
Component Dynamic Checklists: Did we actually do it right?
Let's dig a little deeper into each component: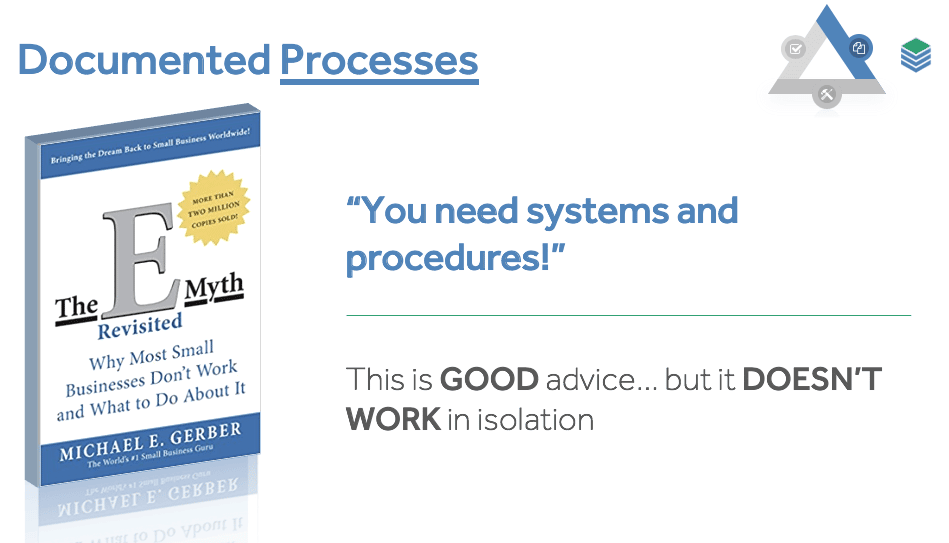 Documented processes are important, but they shouldn't be in the form of a "Systems And Procedures Manual".
Ideally, the "one best way" to do each task (e.g. dealing with a new sales lead, running your sales process, processing a loan, managing a client review) should be one-and-the same as the software and tools you use to do the job.
(That's what we've aimed for with the BrokerEngine software. If you use another software, then the principle still applies: get your systems and procedures as closely embedded inside your software as possible).
Let me show you what I mean in the next section, where we'll look at Ideal Tools…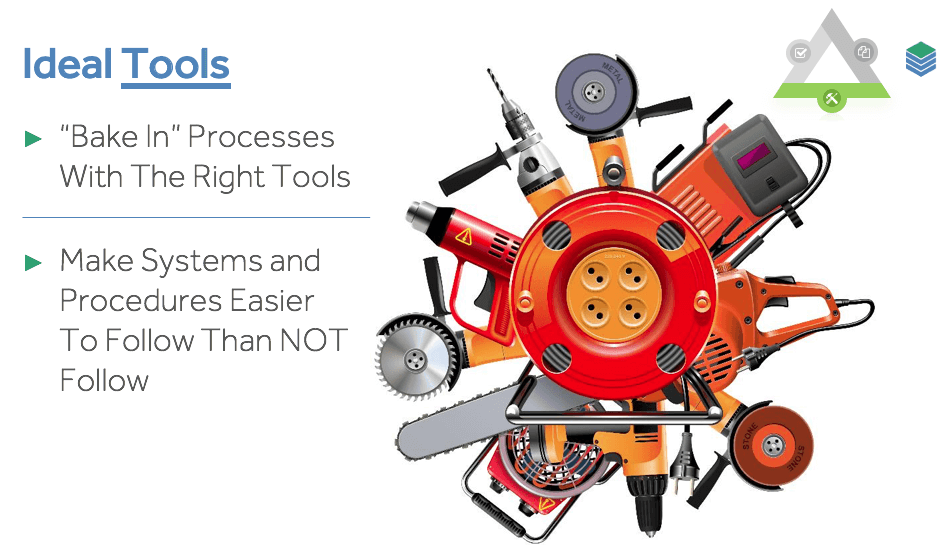 Using Ideal Tools means "baking in" the right processes into your actual workflows.
(So you're no longer referring to an SOP manual in one format, then switching over to your software to do what the SOP manual said to do.)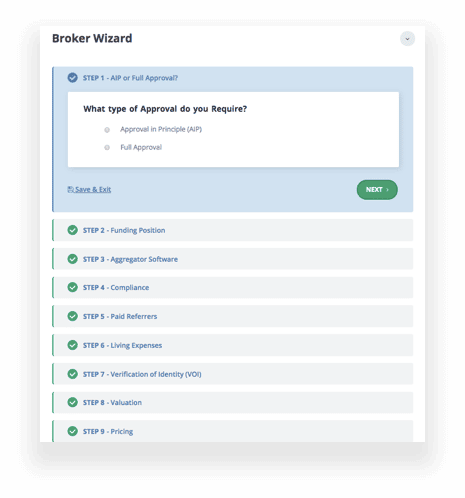 Here's an example of our Broker Wizard, which is a smart workflow that allows a broker to delegate a loan thoroughly and accurately, in 10 minutes or less:
With the Broker Wizard, each step in the "loan delegation procedure" process is actually built into the Wizard itself. It's impossible NOT to follow the correct system!
There's just one more step. And that is to ensure that whatever tasks and workflows are performed in your business are actually followed according to best practice.
And for that, there's nothing better than the humble Checklist…
In The Checklist Manifesto, author and doctor Atul Gawande talks about the power of checklists to ensure best practice is followed and results are delivered.
For example, used in the medical setting, when doctors and nurses consistently followed simple checklists, the average length in intensive care dropped by half.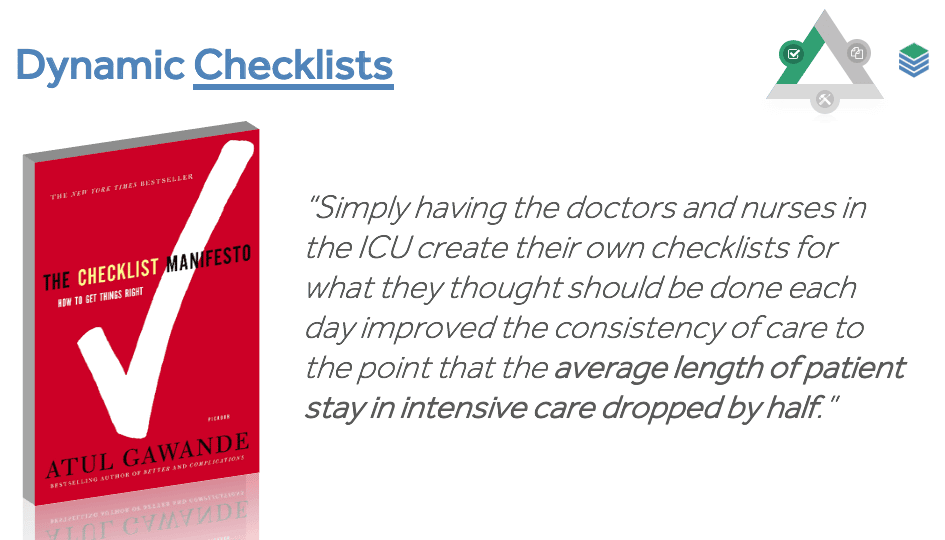 That represents a huge amount of money saved, as well as many more hospital beds freed up for the people that need them.
If doctors can get value from checklists, when lives are literally at stake, then brokers can certainly benefit too.
But, there's a twist: no two loans are exactly alike. So the checklists need to dynamically adjust to the exact loan in question in order to be efficient and effective.
Enter the Dynamic Checklist…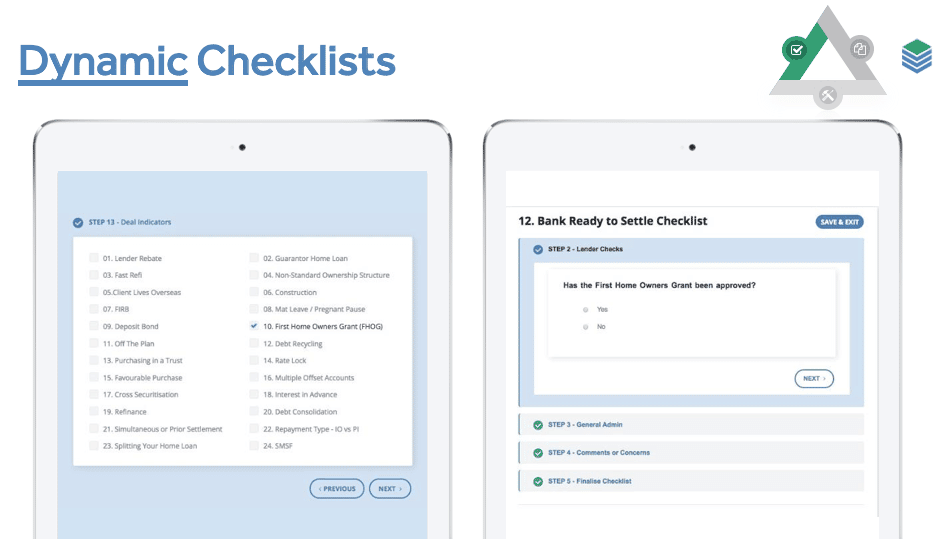 Dynamic Checklists are checklists that provide the user with only the checklist items they need for the specific loan they're working on.
(Otherwise you end up with a checklist with hundreds of items on it, most of which don't apply to a given Deal. And when you use a checklist like that, pretty soon the checklist stops being effective.)
Refer to the example above. With this particular loan, you can see that a First Home Owners Grant (FHOG) applies (in the left panel).
Later in the Deal (in the right panel), the loan processor is reminded via the Bank Ready To Settle Checklist to check that the FHOG has been approved.
That particular checklist item ONLY appears if a FHOG applies to the Deal.
That's how Dynamic Checklists keep the loan approval process lean and efficient, and ensure checklists are actually used and do their job.
The Ideal Mortgage Broker Sales Process
How To Convert Shy Prospects Into Lifelong Clients, Step-By-Step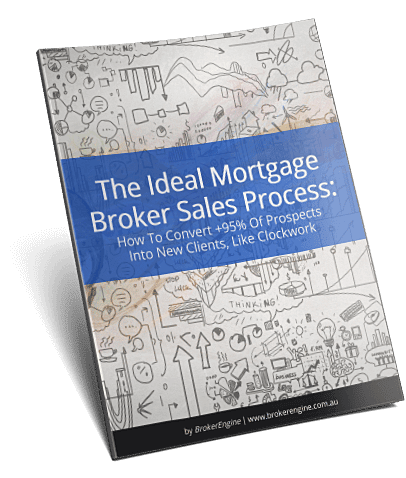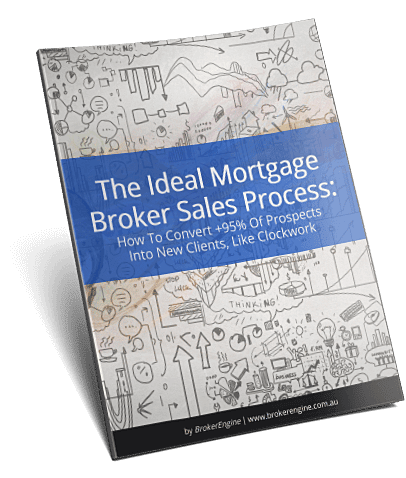 Mortgage Broker Systems In Action
Here's what one of our great users Karli Martin said about how of systems, tools and checklists have helped her to scale her practice, without sacrificing quality: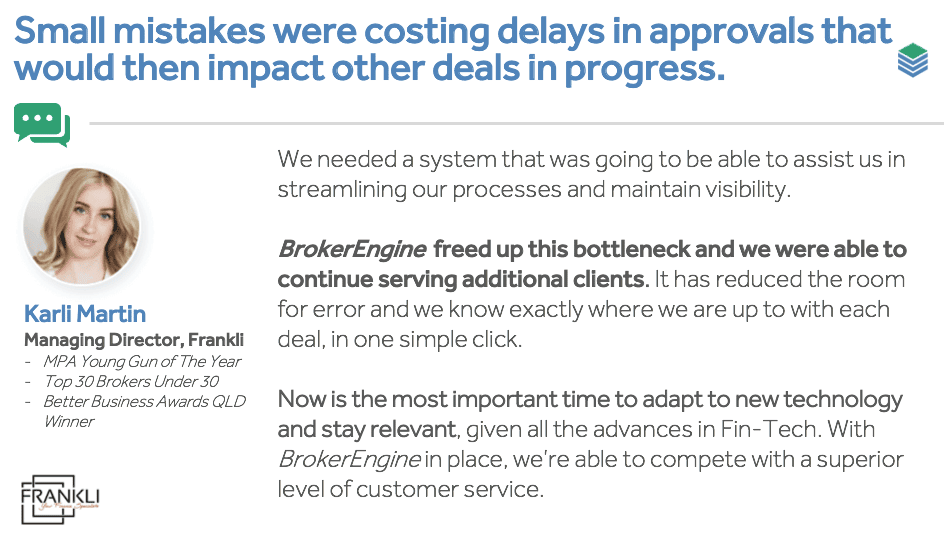 Karli was growing her practice quickly, but found that small mistakes were causing delays in approvals.
This approach to systemisation was able to free up the bottleneck by streamlining her processes and increasing visibility.
As a result, she was able to continue serving new clients.
Many brokers tend to focus on EITHER sales OR delivery at one time. And Karli is living proof you can do BOTH.
What's The Next Action?
If you agree that systems are vital to support quality growth, then I encourage you to revisit how you're using processes, tools and checklists to deliver a consistent experience.
Or if you'd like to shortcut the grueling process of creating all your systems, procedures and checklists from scratch, then we've done all the hard work for you!
BrokerEngine software arrives installed with best-practice mortgage broker workflows that you can customise to suit your needs. Check out our latest demo to see how it works.