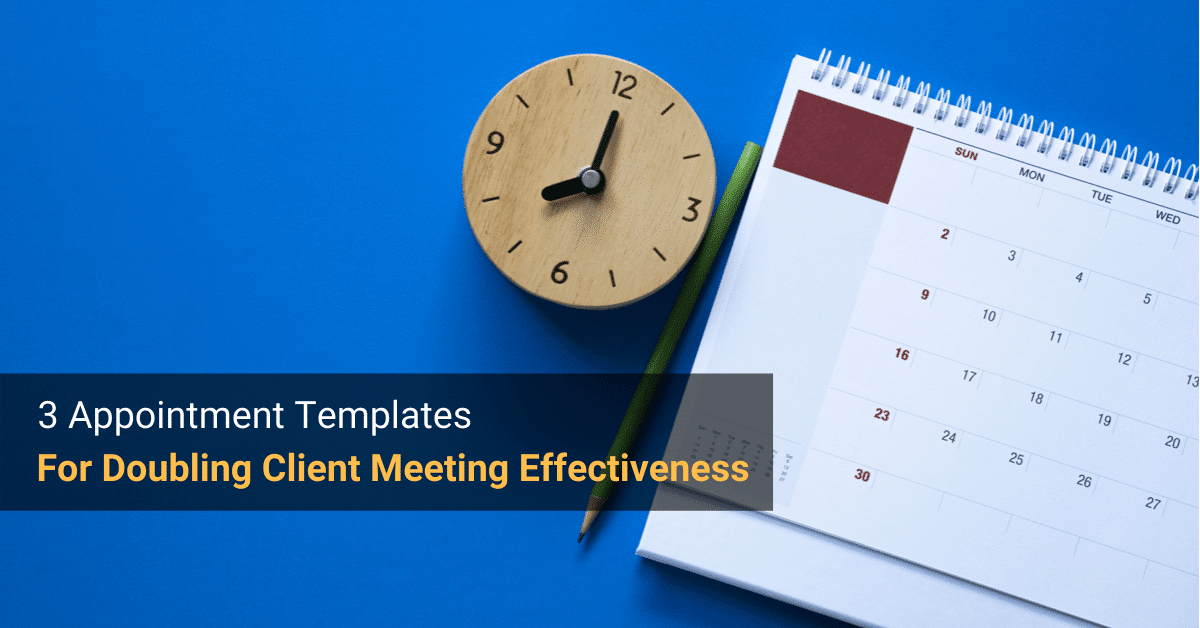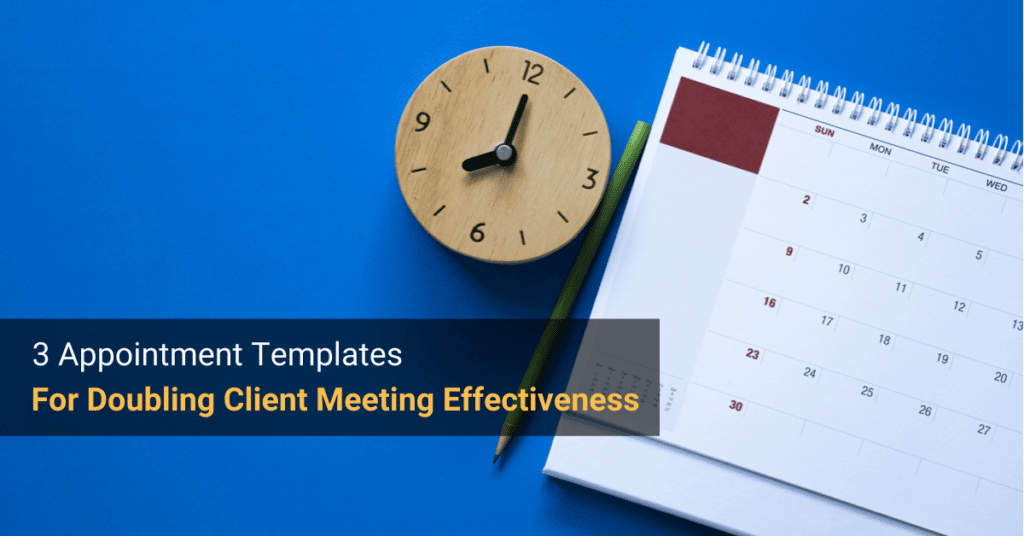 As a mortgage broker, growing your volumes boils down to one thing: squeezing maximum value out of every hour. 
You do this by structuring your work week to maximise time spent on high-value activities (Sales, Strategy and Service) and then improving the efficiency of each hour.
In this post, I'll share 3 Structured Appointments that I've recently built into my workflow. These are helping me deliver a better client experience in less time.
Structured Appointments vs Ad-Hoc Catch-Ups
The big idea is to use structured client meetings at key stages of the loan process to deliver a better service to clients, more efficiently.
The reason why structured meetings work so much better is explained by The 5 P's Of Meeting Effectiveness…
| | | |
| --- | --- | --- |
| | Ad Hoc Meetings | Structured Meetings |
| Programming | "Just call me whenever" | "Let's lock it in the diary" |
| Preparation | Client comes in blind | Client comes prepared |
| Planning | No agenda: slow to get to the point, items get missed | Formal agenda: achieve results faster |
| Productivity | Constant "context switching" with random meetings kills your flow | Time-blocking similar tasks keeps your brain in flow |
| Progression | What's the next step? Sometimes unclear. | The Deal can progress like clockwork |
3 Structured Meetings To Add To Your Workflow
Here are the 3 structured meetings I've added to my workflow.
Pre-Approval Meeting
Mortgage Documents Issued / Getting Ready For Settlement
Post-Settlement Review
The "Pre-Approval Meeting"
The purpose of the Pre-Approval Meeting is to help guide the client toward a successful purchase. It's also a great opportunity to answer questions and even ask for referrals. Here's what my appointment template looks like:
Timeframe: setting a time limit helps to drive efficiency. (Thanks, Parkinson's Law!)
Purpose: explains the value of the meeting to the client
Agenda items: provides a preview of what we'll cover
Pre-reading/homework: I involve the client in the process by suggesting a chapter from my mortgage broker book.
I use the customisable workflows within BrokerEngine to send the reminders for each meeting type when due. Here's an example workflow email:
Getting Ready For Settlement Meeting
The purpose of the Getting Ready For Settlement Meeting is to help the client complete the mortgage documents correctly and smooth the path to settlement. As well as assisting the customer, this meeting also helps to prevent stress and delays during this critical part of the process.
Post-Settlement Review Meeting
The purpose of the Post-Settlement Review Meeting is to ensure the client is happy and understands the next steps in the process. This is also a great time to ask for referrals when the client is at one of the high points of their journey.
Technology and Logistics
In terms of technical setup, here are the tools I use:
BrokerEngine software controls the workflow and timing of each meeting
Followup workflows for meetings booked/not booked are run out of BrokerEngine.
Conclusion & Next Steps
Although loan advice and processing is becoming more and more labour-intensive for brokers, clients don't care about that. What clients do care about is the results you create for them and the experience they have while you do it.
By having a consistent process that includes structured appointments and smart automation, you can deliver a 5-star service at scale while remaining efficient and profitable.
To find out more about how to leverage smart automation in your practice, register now for a free demo of BrokerEngine software or check out our latest video case studies.