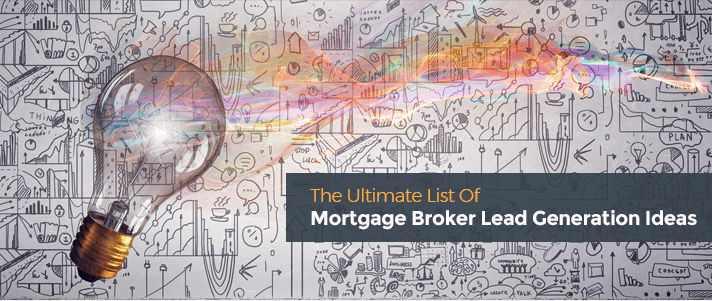 When it comes to acquiring new clients, many mortgage brokers feel comfortable with the process once they are talking to a qualified prospect=. They just need more prospects to talk to.
That's why mortgage brokers need lead generation – the art and science of collecting the contact information of potential prospects which can be converted into viable sales conversations.
But where do you start? There are an ever-growing number of lead generation tactics you can you use to build your list. In this article, we'll explore 31 practical lead generation methods that you can execute immediately.
This is a long article – if you prefer, you can download a PDF copy here:
Online

Mortgage Broker Lead Generation Ideas
1. Unique Value Proposition
With over 15,000 mortgage brokers in Australia, it's not surprising that end clients struggle to differentiate between them.
Many brokers – especially smaller firms – end up fighting it out with much bigger competitors for clients. It's a battle that's tough to win.
The solution is to craft a Unique Value Proposition, which we define as:
That distinct, appealing idea that sets you apart from every other "me-too"competitor or alternative solution (including the alternative of doing nothing).
The benefit to lead generation is simple: when your ideal client sees you as a better alternative to their bank or the "name brand" broker chain they've already heard of, they come to you rather than you having to go to them. But you must give them solid reasons to do so.
Here's an example from Professional Home Loans:
This firm harnesses a strong Unique Value Proposition by:
Calling out directly to a defined target market (Professionals)
Offering specific benefits that appeal to that target market
Creating a Unique Value Proposition is fundamental to lead generation success. For further guidance, refer to this How To Create An Effective Value Proposition Infographic:
2. Landing Pages
Traditional websites are typically poor at lead generation. That's because they don't focus the prospect on a specific offer.
The solution is landing pages – these are focused pages on your website that answer the following three critical questions that all website visitors ask themselves when they hit your website:
Where am I?
What can I do here?
Why should I do it?
Yet when you look at many mortgage broker websites, they feature a lot of generalised content.
For example, you click an ad about investment property loans but you land on a home page that includes sections about first home buyer loans, refinance AND investment loans.
There's a disconnect… the message is diffuse and not immediately compelling. So your visitor hits the back button on their browser and is never seen again.
If you don't have good landing pages, your website visitors are probably doing this all the time, wasting your hard earned cash.
Here's a good landing page from Trilogy Funding: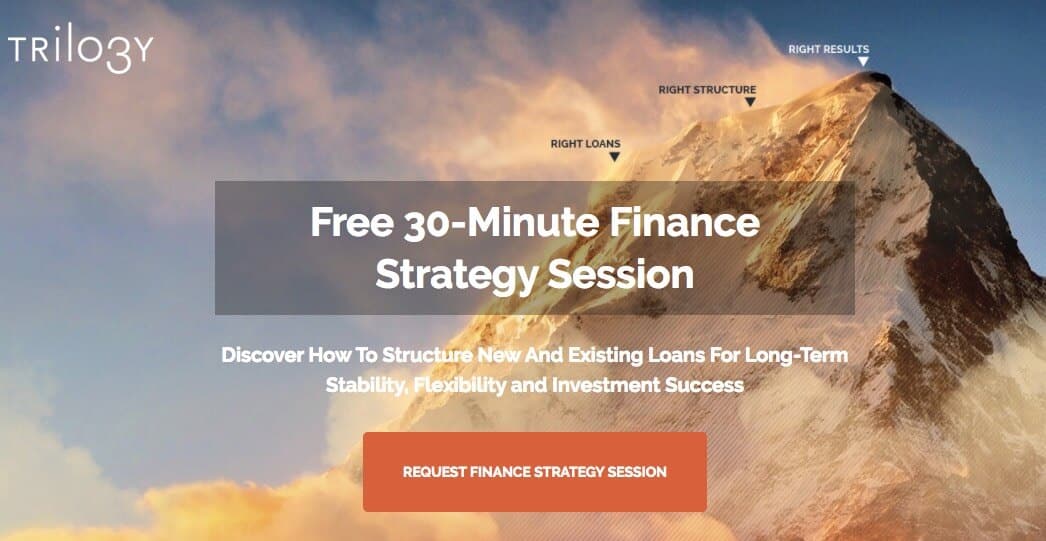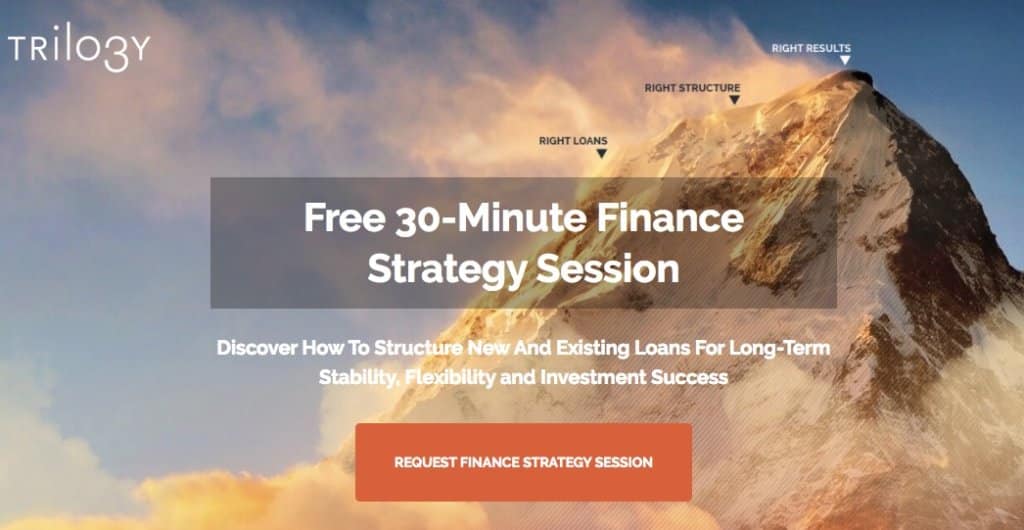 The offer is clear, the language is appropriate to the target market (property investors), and the value of the interaction is communicated effectively.
There are a lot of ways to approach landing pages, but to help you along, here's an Ideal Landing Page Template from Marketing Results.
3. Call To Action
"If you don't ask, you don't get" is a common refrain in sales. Yet a lot of web pages neglect to specifically direct the prospect to take the desired next step. They just….end.
A simple fix is to scan every page of your website and ensure that wherever possible, you finish with a relevant Call To Action like this:

4. Powerful Proof Elements
Lead generation is a game of trust. You need to convince the prospect they're better off contacting you and engaging with your firm than the alternative of going with the option they already know (or doing nothing).
That's where proof elements are invaluable. These are specific units of communication you use to prove what you say is true.
Time Home Loans does a great job of showcasing their "Top 25" status and 900+ 5-star reviews here: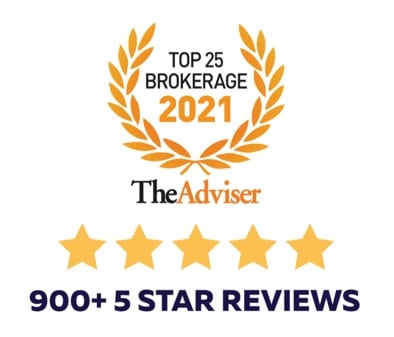 It's easy for their website visitors to conclude, "well if they have this many positive reviews, they must be good".
But let's say you're just starting out as a broker, or you don't have a trophy cabinet of awards to display. Never fear! In this Monster List of Marketing Proof Elements infographic, you'll find 42 distinct proof elements you can use to bolster your message.
5. Lead Magnets
Definition: A lead magnet (aka "opt-in bribe") is a free offer that provides a prospect with value in exchange for their contact information – usually their email address as a minimum.
Here's a list of the most common lead magnet examples:
Report
White Paper
Audio
Video
Checklist
Cheatsheet
Infographic
Quiz
Calculator
Template
Case Studies
Toolkit
Resource List
Calendar
Worksheet / Workbook
Spreadsheet
Tutorial
eBook
Sample Chapter
Guide
Infographic
Webinar
Mindmap
Slide Deck
Challenge
Membership Site
Facebook Group
Just as you should have a Unique Value Proposition (UVP) for your firm as a whole, you also need a UVP for your lead magnet. In other words, your lead magnet needs to offer unique value to a specific target market.
This is why a "Free Newsletter" is NOT an effective lead magnet. The perceived benefits are not great enough for large numbers of prospects to exchange their contact information for a free newsletter.
Here's a lead magnet example from IIG Group with specific appeal to wealth creators: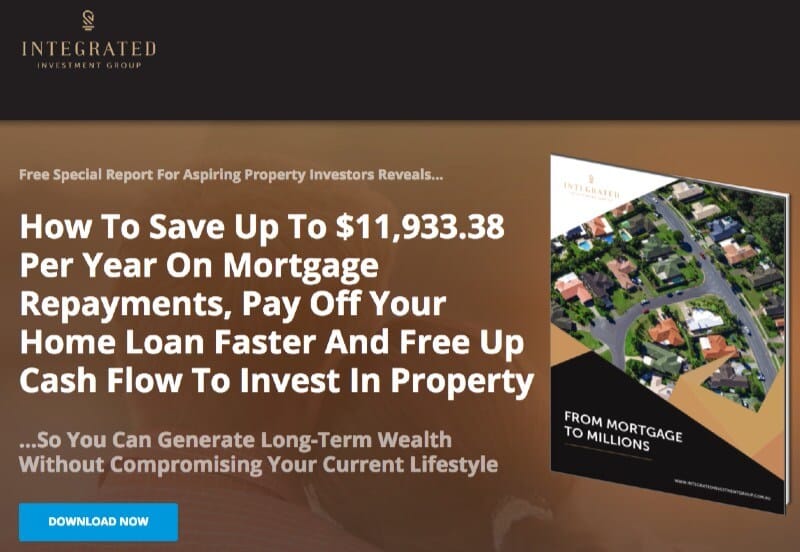 6. Explainer Videos
An Explainer Video is a brief, punchy video that explains your value proposition and ends in a Call To Action. Explainer videos are usually limited to around 90 seconds in duration, although some may be as long as 3 minutes.
Effective explainer videos are challenging to produce precisely because of their short length. You have to carve off every ounce of fat and stick to the essentials.
Here's a good example from Home Loan Experts:
For extra credit, you can use a service like the Turnstile feature from Wistia to capture leads at the end of your explainer video: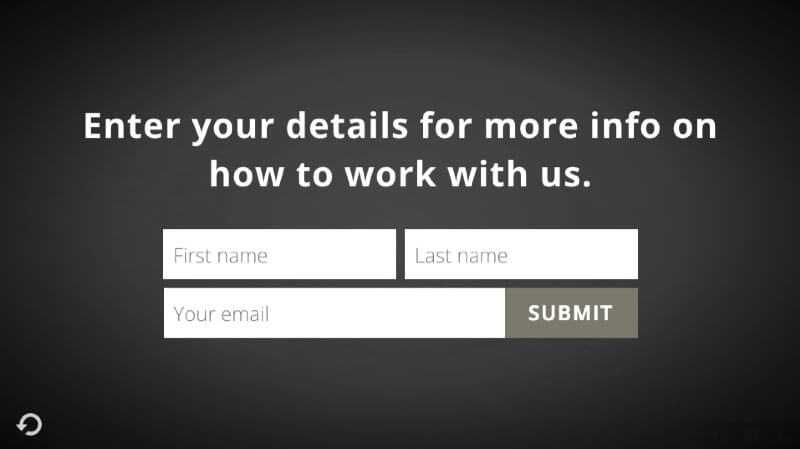 7. Autoresponder Emails
Lead magnets are designed to motivate prospects to exchange their email address for valuable nuggets of information. However, a lead magnet alone will only do part of the job.
Consistent, valuable follow up is the "bridge" between your initial lead magnet and motivating the prospect to initiate a 1-to-1 dialogue with you.
Or to put it another way – if you don't have an effective follow up sequence, then you're leaving half to two thirds of your potential client acquisition results on the table.
To execute your follow up email sequence, you need two things:
Technology: an autoresponder system, and
Content: email content to be sent periodically to your list
On the technology side, there are a heap of options, including:
…and many others. Then there is content.
The aim of your nurturing sequence is to provide value to subscribers and show them how engaging your services will make them better off.
Here's a Mortgage Client Nurturing Email Sequence that provides a framework for your followup sequences:
8. Mention Privacy (But Don't Mention Spam)
Junk emails are more common than ever. Reassuring prospects that you'll respect their privacy can help prevent visitors from leaving your site without opting in.
Adding a line of privacy text is a small but effective way to achieve this. But it's important you go about it the right way.
Some tests suggest that using negative language like "We will never SPAM you" actually decreases response because it reminds people of the thing they don't want – spam, as this often-cited result from Michael Aagaard shows: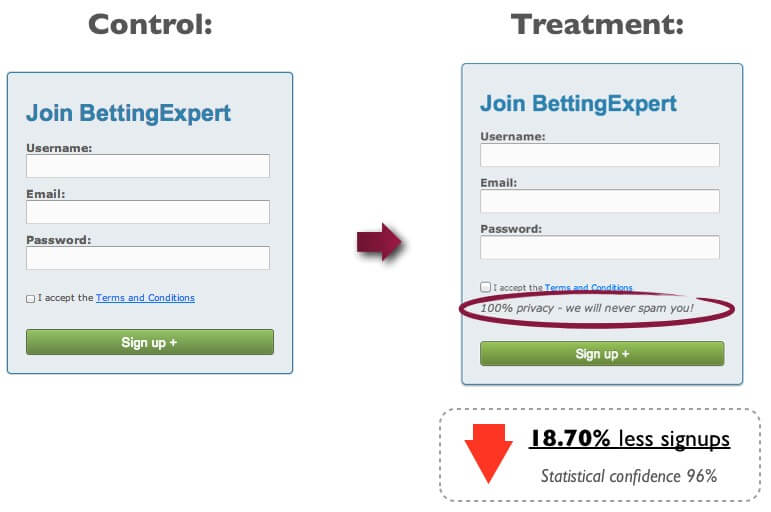 Where possible, it's better to frame your privacy message in a positive light. A simple option is, "We respect your privacy."
9. Exit-Intent Popups
Exit-Intent Popups are opt in boxes that appear just as the user is reaching for the "close" button on their browser.
Some people find them annoying. Others have an almost visceral hatred of them.
However, from a purely hard numbers point of view – there is no doubt they can dramatically boost opt in rates.
If you have a WordPress website, one of the best services for popups of all kinds (including Exit Intent) is Opt In Monster.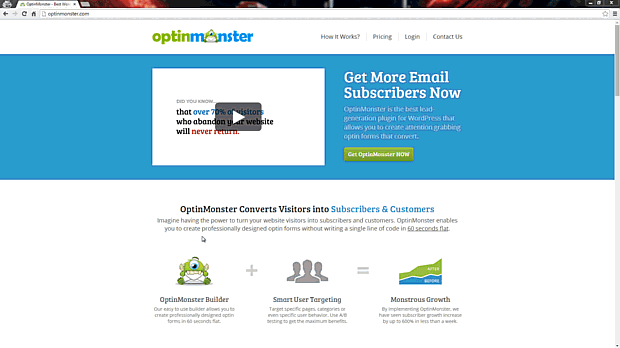 10. QUALITY Blog Posts
Blogging and content marketing have been trending in recent years as the business development strategy that every business "should be" using.
There are many success stories of businesses that have used blogs to expand. However, for every success story there are probably a hundred disappointed and dejected business owners who tried content marketing and didn't have a shekel to show for it.
So, how do you avoid becoming another skeleton in the content marketing graveyard?
One recommendation is to forget most of the accepted wisdom you've heard about blogging. For example:
"You have to blog every week"
"You have to publish for 12 months before you'll see any results"
"Just stuff plenty of keywords into your blog posts and your organic traffic will skyrocket"
"I have a guy offshore who will write blog articles for 12 USD each"
This type of advice is outdated at best and downright destructive at worst.
The secret to blogging success comes down to one word: QUALITY.
Choose relevant topics that your target market (real humans!) can actually benefit from, then create the best content you know how to create on that topic.
Where possible, make it visual with images, examples and references (not unlike the post you're reading now :))
Then, use a plugin like Yoast SEO (if you use WordPress) to optimise each blog post for search engines.
One quality blog post can bring in more traffic than many dozen average posts. Even one brilliant post every quarter is better than a crappy post every week.
11. Content Upgrades
A content upgrade is a piece of premium content that you embed within a blog post in exchange for an email address. Below is a very basic example, and you'll find more content upgrade ideas here.

Website viewers or "eyeballs" are good, but unless the prospect takes further action and enters your email funnel, they're unlikely to become your client.
12. Client-Getting About Us Pages
"About Us" pages are tend to be under-utilised. That's because they use what I call the "name, rank and serial number" approach. You know the drill:
ZZZZZzzzzzzzzzzzzzzz.
The alternative is creating a client-getting About Us page – one that tells your origin story (see Proof Elements above) and conveys the true essence of what you're about.
We'd like to think this is what we've done with the BrokerEngine About Us page.
(If you're a mortgage broker and you feel your About Us page is gallery-worth, feel free to leave a note in the comments and we'll consider adding it to this article.)
13. Expert Interviews
Offering valuable content to subscribers and prospects is an effective strategy for converting leads. But that doesn't mean that all the content has to be produced by you.
You could, for example, set up Skype interviews with allied professionals (e.g. solicitors, property investment experts, accountants, quantity surveyors).
These interviews can them be posted on your website, put into your autoresponder sequence, or if you're really keen, turned into a podcast, as mortgage brokers and finance professionals are increasingly doing:

If you have a real talent for interviewing, then longer-form audio episodes can work. However, there's nothing wrong with punchy 5 to 10 minute recordings that give value and answer genuine client questions.
14. Engaging Content Videos
If you're comfortable in front of the camera, then video is one of the fastest ways to convey your message and build trust.
A simple format is the FAQ format – write down a list of questions you get asked by your clients and answer each question in a short video. Here's an example from Marshall Condon from Neue Black:
Note that in the video above, the content matches the firm's focus area (millennials).
15. Facebook Groups
Facebook Group marketing is like spinning up a flywheel. It's a strategy that takes some time and effort to get momentum, but once it is up and running, can prove to be very effective.
As with many of the other lead gen tactics on this page, focusing on a defined target audience who are interested in creating long term outcomes helps.
For example, if you have a strong focus on wealth creation or property investment, then you can build a community around that topic. However, if you simply do standard refinances, then it may be hard to establish strong engagement within a Facebook Group.
To explore further, check out this post on How (And Why) To Start A Facebook Group.
16. Interactive Quizzes
Some studies suggest that creating an interactive experience for prospects is a more enticing lead generation "carrot" than straight information.
One of the ways to deliver this experience is to offer a quiz. For example, a "Do I qualify for a home loan?" quiz – especially if you operate in a field where the prospect may be genuinely wondering this themselves (e.g. impaired credit).
There are a host of platforms and services that can create quizzes for you – just google lead generation quizzes and you'll be spoiled for choice.
17. Social Sharing Buttons

Adding social share buttons on your website such as those offered by Sumo.com make it easy for prospects to share your site.
However, you need to remember that in order to get shares, you need to create share-worthy content.
Generally, users won't share your home page or your service pages (unless they're your mum!). But they will share useful content such as informative articles, quizzes, infographics or unique calculators.
18. Guest Blogging
Above we covered the importance of creating high quality blog posts on your own website.
Taking it a step further, you can also write high quality posts for other blogs and websites (with their permission, of course).
An easy place to start is with the professionals you already work with. If they have a blog, suggest that you contribute.
The "partner" business will benefit, because they now have more high quality content. And you'll benefit in at least 3 ways:
Opportunity to promote traffic and referrals from the host blog to your website
Backlink(s) from the host blog to your website, which is positive for organic SEO
Opportunity to promote the content to your list and potentially drive cross referrals to the "host" (which may either be reciprocated or renumerated).
19. Invite Guest Bloggers
This strategy is to simply the reverse of the above. Invite other content creators to provide high quality articles for your blog.
You not only add more valuable content to your own blog, but you also get an opportunity for the blog post author to email their list and/or promote their post on social media – driving traffic to your site in the process.
This doesn't need to be done on an "industrial scale" to work. A couple of guest blogs a year from 3 or 4 close partners, backed by an appropriate promotional calendar, is enough to create an impact.
20. Facebook Advertising
You may have noticed that advertising for financial services on Facebook is becoming increasingly prevalent. This is happening for one simple reason – it works!
However, Facebook advertising grows increasingly complex by the day. Sometimes it feels like the Facebook advertising settings look like this: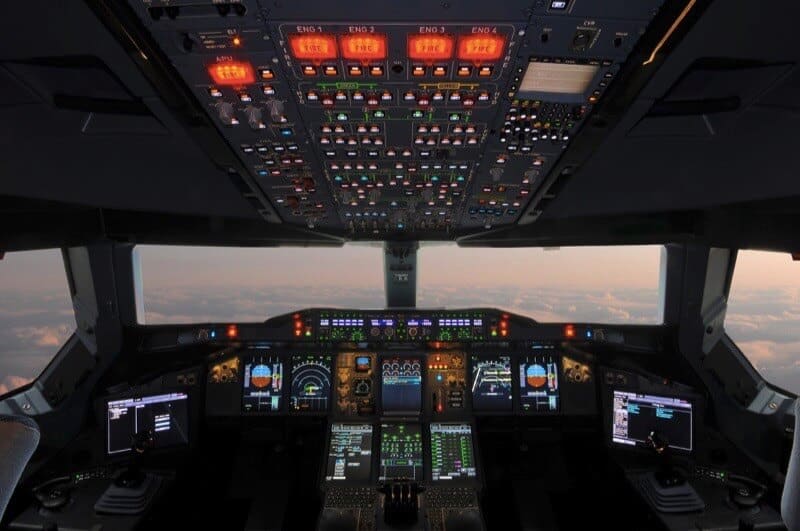 That said, it's worth persevering, as you'll see from this Mortgage Broker Facebook Advertising Case Study that resulted in 131 client consultations in a relatively short timeframe.
Facebook offers some very useful, and increasingly precise, targeting methods that allow you to dial in your target audience.
For example, you can target by income, net worth and home ownership status (as well as a host of other factors).
There is one caveat to Facebook advertising — and that is, Facebook ads seldom work if you don't have a nurturing funnel in place (i.e. lead magnet and email sequence as a minimum).
Facebook ads create the click – it's the job of your funnel to convert that click into a qualified lead.
21.  Google Ads
Google AdWords was the darling of the online lead generation world for many years, especially when competition wasn't fierce.
Now, the price of Google Ads clicks is very high indeed.   Just look at a few estimated bids for some common search terms:

$35.64 per click (i.e. per visit) is a lot of money to pay, unless your website converts at a very high rate indeed.
Google AdWords is a big topic, but here are a few tips:
Don't bid on general terms like "home loans" – choose much more targeted terms that are related to your UVP. e.g. "Construction loans with guarantor"
Ensure every ad leads to a highly relevant landing page that relates exactly to what the user searched
Set up conversion tracking and test and measure response
Unless you are an AdWords expert (hint: you probably aren't) then outsource the optimisation to an expert who can squeeze more value out of every click
22. Organic Social Media
Organic social media refers to creating and sharing content on social media without paying for advertising.
While organic social media tends to receive a lot of exposure in the business press, it can be a "slow burn" proposition to make work.
Put it this way: after over a decade generating leads online for mortgage brokers, I've never come across a client who has been really "killing it" with organic social media in a scalable fashion.
Tools such as Hootsuite, Buffer and Meet Edgar (to name just three of many) can help to automate the process, you still need to create engaging content.
Although it is possible to convert "Direct Messages" into appointments and client relationships, it's hard to beat the automation of funnels and landing pages.
23. Google Local Search
Google Local Search refers to the "maps listings" that typically appear below the ads on the Google search page: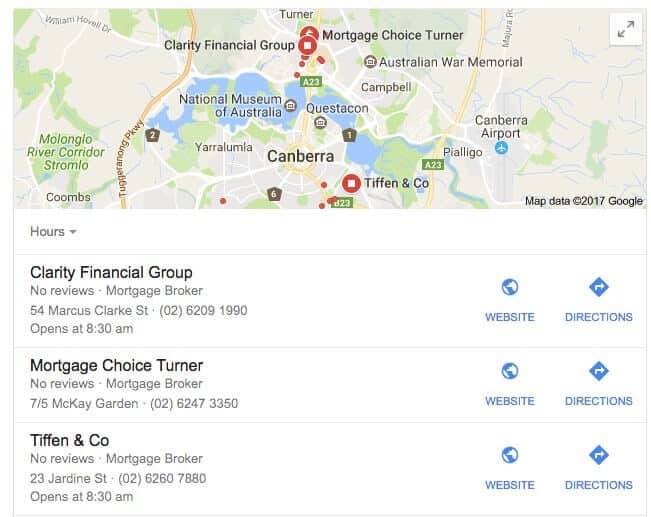 These local listings are effective for attracting clients who are specifically looking for a local provider.
There is definitely a "formula" for improving your rankings in the local listings – see this article on Google Places Optimisation for practical tips.
24. Search Engine Optimisation
Ah, the elusive "SEO".
This refers to optimising your website to rank on the "Free" side of Google.
This is another huge topic, but to help you get traction, we published a detailed mortgage broking SEO case study here.
as a starting point, here are the basics you need to be aware of:
Conduct keyword research using keyword research tools
Ensure your website is optimised with appropriate keywords (see this guide)
Create content that is very relevant to the keywords you're trying to rank for
Get backlinks and shares (see this guide)
Be patient 🙂
And here are some things NOT to do around SEO:
Don't start with SEO and expect quick results – online advertising is usually much faster
Don't publish duplicate or low quality content – it will do more harm than good
Steer clear of "black hat" (unethical) tactics – you will get found out and you will get penalised)
The solution? Just create really good content for humans and most of the rest will take care of itself.
25. Advertise On Niche Websites
While Google and Facebook get most of the attention when it comes to web media, there may be other attractive options, depending on your market.
For example, property investment websites such as Smart Property Investment and Your Investment Property offer media packages. If you target property investors, these sites can potentially provide value for money.
The guiding principle is to first understand where your target market hangs out, then place your advertising messages there (and track the response).
Another way to achieve a similar result is to advertise on the Google Display Network (GDN), and place your ads on sites with a strong affinity with your target market.
Then if it works, keep doing it.
26. Lead Generation Services
There are a variety of businesses that provide lead generation services to brokers. Usually these businesses will execute a combination of the techniques on this page on your behalf.
There are two broad models:
Fee for service: you pay a fee for lead generation strategies to be executed on your behalf, and you usually own the resulting work product (e.g. the websites, funnels or traffic campaigns)
Pay per lead: you pay an agreed fee for leads which you then contact and attempt to close. With this model, you usually pay by the lead but don't own any of the infrastructure used to generate leads. You're "renting" the solution rather than owning it.
As with anything, do your due diligence and test and measure the response. If it works, keep doing it. If it doesn't, keep looking.
Offline

Mortgage Broker Lead Generation Strategies
27. Print Advertisements
Over the last decade I've seen print magazine ads be very effective for mortgage brokers, but print magazines are getting harder and harder to find!
As with all media placement, it's important to consider who is reading the magazine, and how closely these readers match your target market.
For example, if you target first home buyers, then it probably wouldn't make sense to advertise in the Qantas in-flight magazine. But if you target international investors or expats, then this could be the perfect media.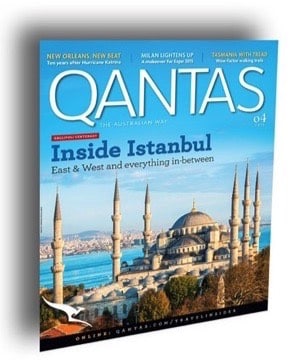 Another limitation of print ads is that you pay for every square inch of space. They're much more restrictive than the web, where you usually have plenty of room to convey your message.
So rather than trying to generate direct enquiry from a small print ad (which is practically impossible), it's much more effective to use "lead generation ads" to entice the prospect to request further information.
From there, your funnel takes over.
28. Networking Groups
Many mortgage brokers get reliable referral generation results from networking groups such as BNI.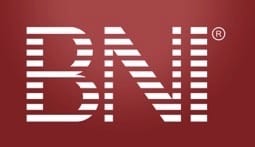 The pro of networking groups is that if you follow the process and participate consistently, you're very likely to get some results.
The con is that it takes time and effort to generate momentum, and these efforts don't scale if you want to significantly grow your practice.
29. Public Speaking
Public speaking opportunities can be a great opportunity to reach more potential clients. It's not for everyone, but there are a number for formats that I've seen work effectively. For example:
Teaming up with a few related businesses and holding a boardroom briefing, seminar or wine-and-cheese evening
Speaking at chambers of commerce or similar "general business" settings
Speaking at relevant workplaces. E.g. a broker specialising in serving the health services profession gave talks to staff at hospitals
Wherever possible, it's useful to capture the details of the people in the room. Otherwise you may end up with a very happy and well-informed audience – but little new business.
30. Telemarketing
Telemarketing used to be much more prevalent than it is today, but after all this is the ultimate list of lead generation ideas, so it deserves a mention.
There are a few ways to do telemarketing:
To consumers: this model has been decimated by the Do Not Call registry – I personally haven't seen brokers have success with this for at least the last 5 years, but if someone out there is killing it with telemarketing to consumers, I'd love to hear about it.

To businesses: there is somewhat more latitude to approach businesses. However, it's hard to get through gatekeepers and speak to decision makers. However, with the right offering, the right script, a hide like a rhinoceros and a lot of persistence it can work.
To existing list members: this isn't really "lead generation telemarketing" as such, because the prospects are already known to you. However, getting on the phone and calling your prospects and clients rather than relying on email is often the fastest way to move an opportunity from dormant to active.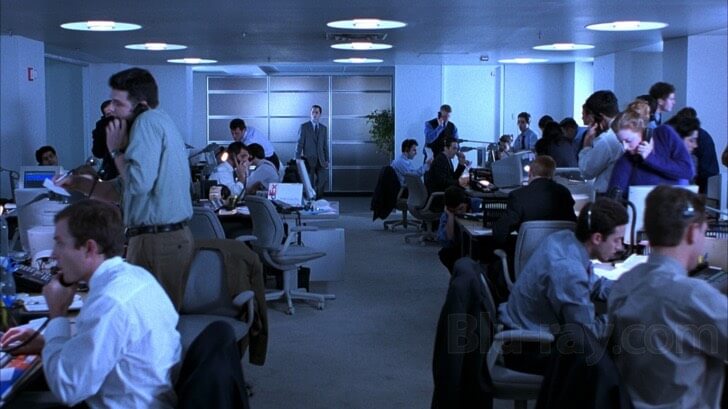 31. Strategic Partnerships
Strategic partnership is a somewhat misunderstood term.
This is not just a "you refer me and I'll refer you" arrangement. It is a STRATEGIC relationship designed to add value to everyone involved – the participating businesses and the client.
A good way to start is to think about who your ideal client is, and who else services that ideal client.
This will help you generate a list of hand-picked potential partners who may be a good fit (e.g. accountants, solicitors, financial planners etc.).
The next step is to create deep partnerships with these partners with the aim of generating significant volumes of mutual business.
I know one broker who has dozens of accountants lined up as "referral partners" in his own mind, yet he complains about never getting many referrals. The reality is that there isn't enough focus and value being created in the partnership to get results.
Kick Your Lead Generation Into High Gear
The aim of this article has been to open you up to the lead generation possibilities in your business and point you in the right direction.
Remember, you don't have to do everything. Indeed, if you try to do everything on this list, you'll probably end up with a half-baked result.
Just a handful of lead gen ideas executed consistently can yield strong results.
A good rule of thumb to keep in mind is "Optimise, Then Innovate"
Optimise: Are you already doing anything on the above list that's working? Focus on optimising your results to turn "good" into "great".
Innovate: Which ideas can you execute the fastest? Pick one and aim to have it done within 30 days – then review. Avoid starting with massive initiatives that will take months and months to execute.
Best of luck with your lead generation!