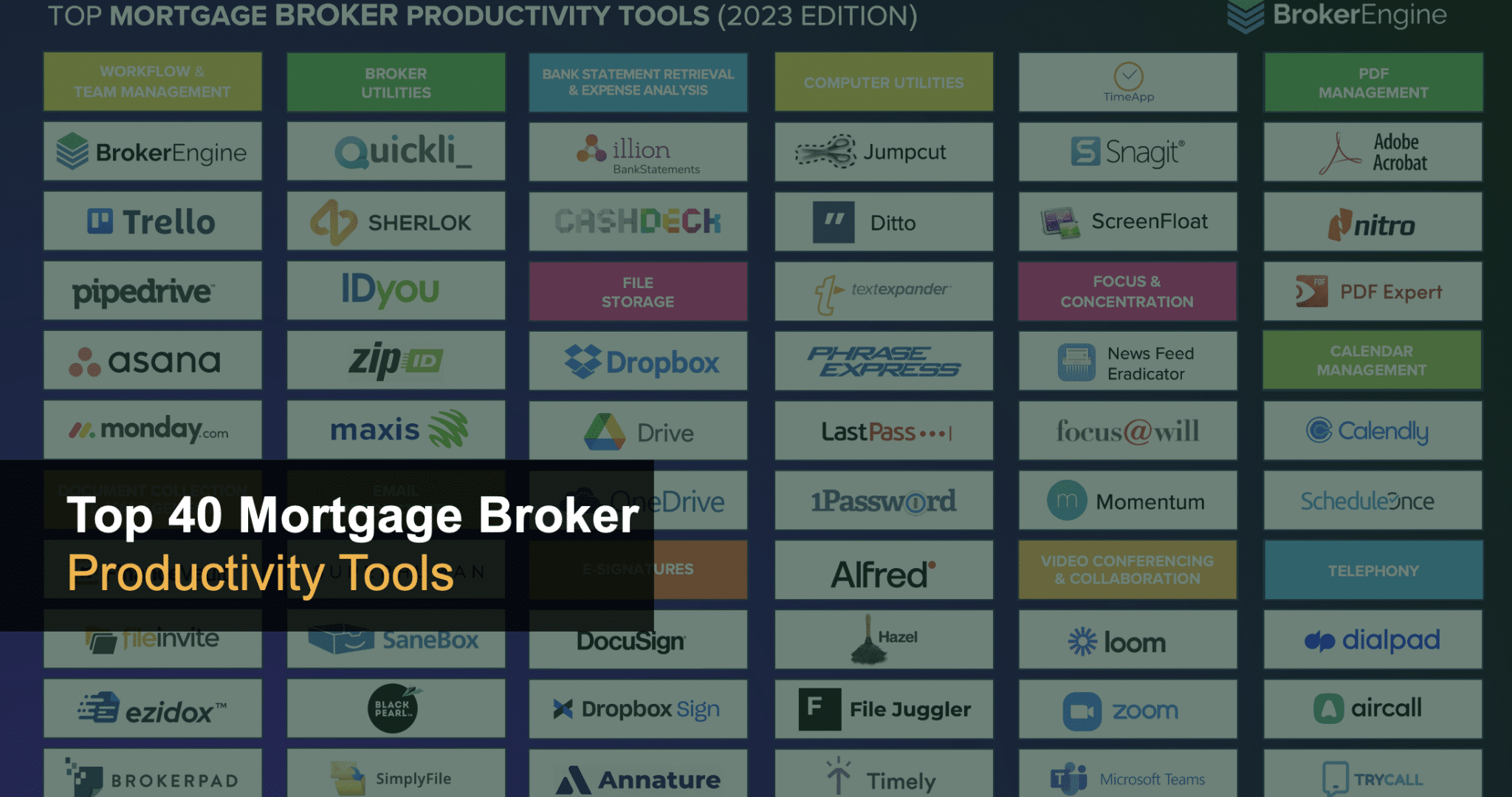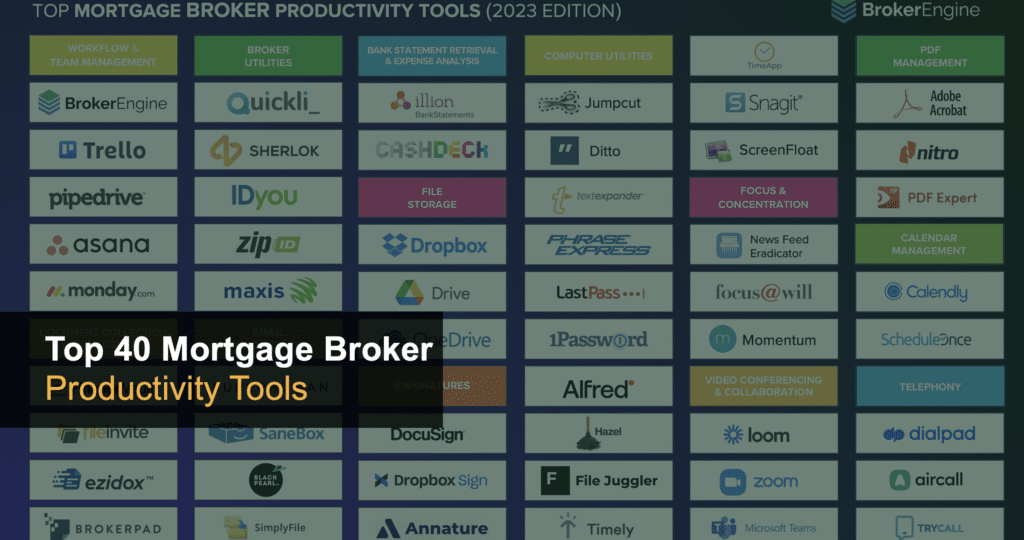 Mortgage broker productivity is all about achieving more in less time. Below is our updated list of mortgage broker tools, software and apps that allow you to get more done in less time, while delivering a great client experience. (However, we haven't included mortgage aggregator software in this list.)
Workflow and Team Management
1. BrokerEngine – BrokerEngine is mortgage-broker specific workflow and automation software, designed to help mortgage broking teams deliver a seamless customer experience at scale.
2. Trello / Pipedrive / Asana / Monday – generic workflow management apps that are also used by some mortgage brokers to keep track of leads, sales pipelines and deal stages.
Broker Utilities
3. Quickli – a specialised lender serviceability app rated by brokers for speed and accuracy of results.
4. Sherlok – a repricing and trail book management platform to help brokers retain clients and prevent trail runoff.
5. ID verification services such as IDYou, ZipID and MaxID – for conducting remote Verification of Identity (VOI)
Document Collection & Management
6. FinanceVault – a mortgage broker specific fact find and document collection tool that is included in the BrokerEngine suite. Includes 2-Factor Authentication, TFN redaction, auto file renaming, Missing Information Request management and more.
7. FileInvite – for requesting documents from clients. Includes reminders and templates, all synced with cloud storage.
8. Ezidox – collect documents from clients for sending to lenders or aggregators.
9. BrokerPad – a broker-specific fact find and document collection platform.
Bank Statement Retrieval & Expense Analysis
10. illion BankStatements – a secure, easy way to retrieve bank statement data in seconds, solving a common pain point.
11. CashDeck – bank statement retrieval and expense analysis tools to help remove friction from your process.
File Storage
12. Dropbox – the original cloud storage app that just works, with excellent cross-device syncing and data backup capabilities.
13. Google Drive – if the Google ecosystem is your thing, Google Drive is an excellent cloud storage solution.
14. OneDrive – alternatively, if you're embedded into the Microsoft ecosystem, OneDrive is a popular choice.
e-Signatures
15. Docusign – the original e-signature service, that is also approved by the largest number of lenders.
16. Dropbox Sign (formerly HelloSign) – a capable e-signature platform that may appeal to Dropbox users.
17. Annature – an Australian entrant into the e-signature market with reasonable pricing and reliable service.
PDF Management
18. Adobe Acrobat – the original PDF manager. Full featured, with a price tag to match.
19. Nitro PDF (PC) – a popular tool for editing PDF documents, redacting tax file numbers (TFNs) and more
20. PDF Expert (Mac) – a fast, robust and beautiful PDF editor for Mac.
Calendar Management
21. Calendly – allows prospects and clients to schedule meetings without endless email tag.
22. Schedule Once – another calendar booking app with robust customisation features to accommodate almost any booking scenario.
Telephony
23. Softphone services such as DialPad or Aircall – giving you the power of a full telephone switchboard or PBX system, without the high cost.
24. TryCall – an automated voice messaging service that allows you to apply a personal touch at scale.
Email Productivity
25. Superhuman – a weapons-grade email client for Google Workspace (formerly GSuite) users who are dealing with serious email volume.
26. SaneBox – a suite of tools for managing email overload and keeping your inbox sane.
27. Black Pearl Mail (Outlook) – a simple way to manage, test and track email signatures across your whole broker group.
28. Simply File (Outlook) – for Outlook users, a better way to file emails and collaborate with other team members inside your inbox.
Computer Utilities
29. Jumpcut (Mac) or Ditto Clipboard Manager (PC) – "clipboard buffering" applications that provide access to multiple snippets of recently copied text.
30. Text Expander (Mac) or Phrase Express (PC) – text snippet managers that allow you to insert commonly used text into any program using shortcuts.
31. LastPass or 1Password – password management apps that allow you to use one master password to manage every other password, while enabling secure password sharing with other team members.
32. Alfred (Mac) – an advanced search and automation app for Mac that replaces multiple productivity tools in one.
33. Hazel (Mac) or File Juggler (PC) – powerful file management applications that can file, rename and clean up files and folders according to the rules you set.
34. Timely (Cloud) or Timing App – automated time tracking software to help analyse exactly how you're spending your time so you can maximise productivity.
35. Snagit – a super-handy app for creating and marking up screenshots on either PC or Mac. Honourable mention goes to ScreenFloat (Mac) – a low-cost app for making floating screenshots that are always visible.
Focus & Concentration
36. News Feed Eradicator – a handy Chrome plugin that prevents you being dragged into social media news feeds, while letting you navigate to where you want to go (e.g. Facebook Groups. Join our free Powering Broker Growth Facebook Group if you're not already a member).
37. focus@will – scientifically optimised music to help you focus.
38. Momentum – a simple Chrome plugin that transforms your home tab into a productivity oasis.
Video Conferencing / Collaboration
39. Loom – this is one of our favourite mortgage broker tools of all time. Loom allows you to create screen capture or live videos on the fly for a host of use cases (responding to sales leads, team feedback, capturing systems etc.)
40. Zoom or Teams – enabling face-to-face meetings with clients, without leaving your desk.
And the ultimate mortgage broker tool of all – BrokerEngine!  Check out our features here, or book a free demo here.