Mortgage brokers who succeed at delivering the right information to the right person at the right time enjoy:
A steady and predictable flow of new opportunities
The ability to drive referrals on demand
A loyal client base who will enthusiastically refer and never leave
But the challenge is getting all your communications to work together seamlessly in the real world.
In this article we'll unpack the 3 Layers of Mortgage Broker Marketing Automation so you can deliver an exceptional client experience, every time. 
What Are The 3 Layers Of Mortgage Broker Marketing Automation?
The 3 Layers of Marketing Automation are the different communication strategies required throughout the mortgage client journey: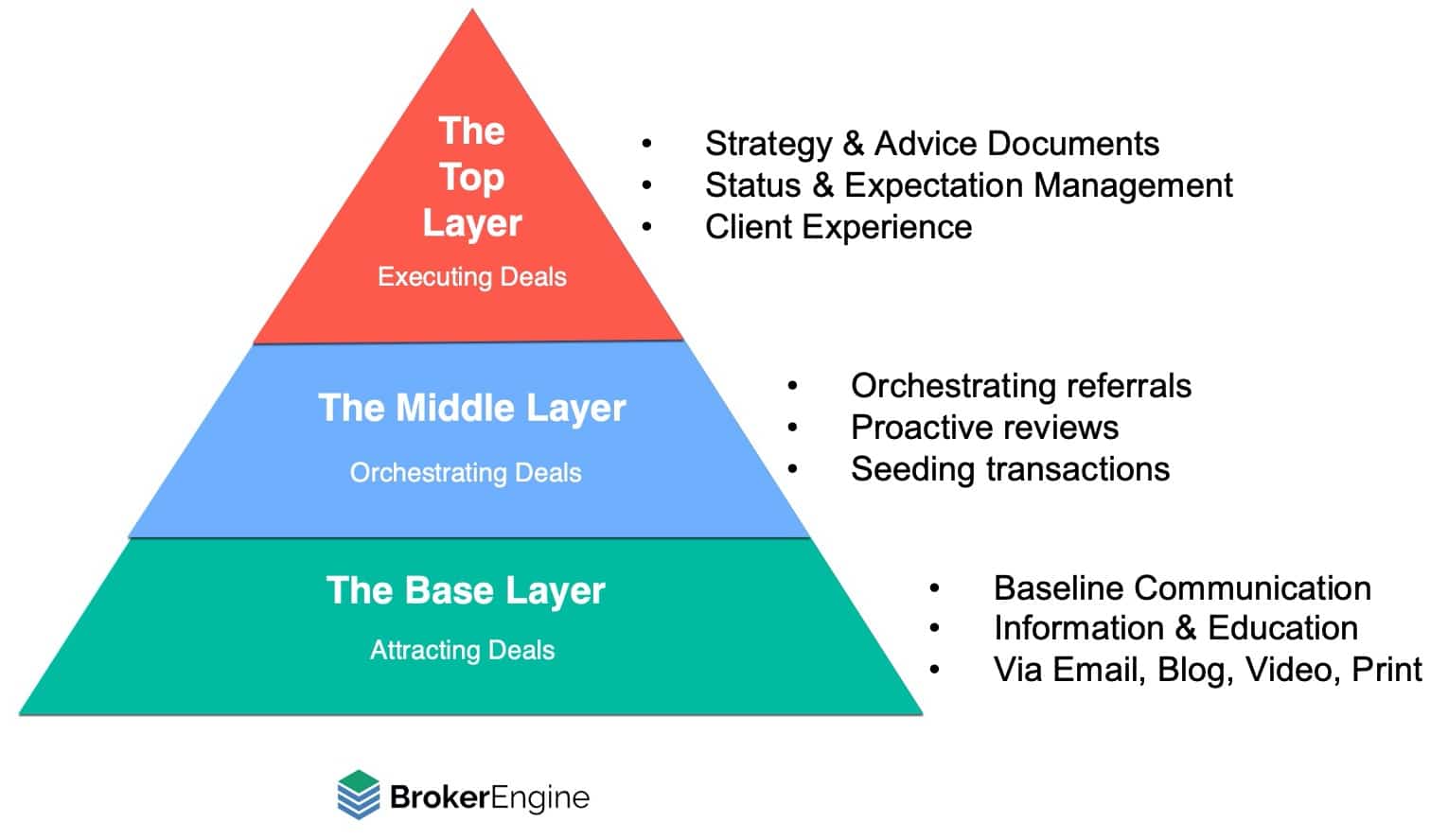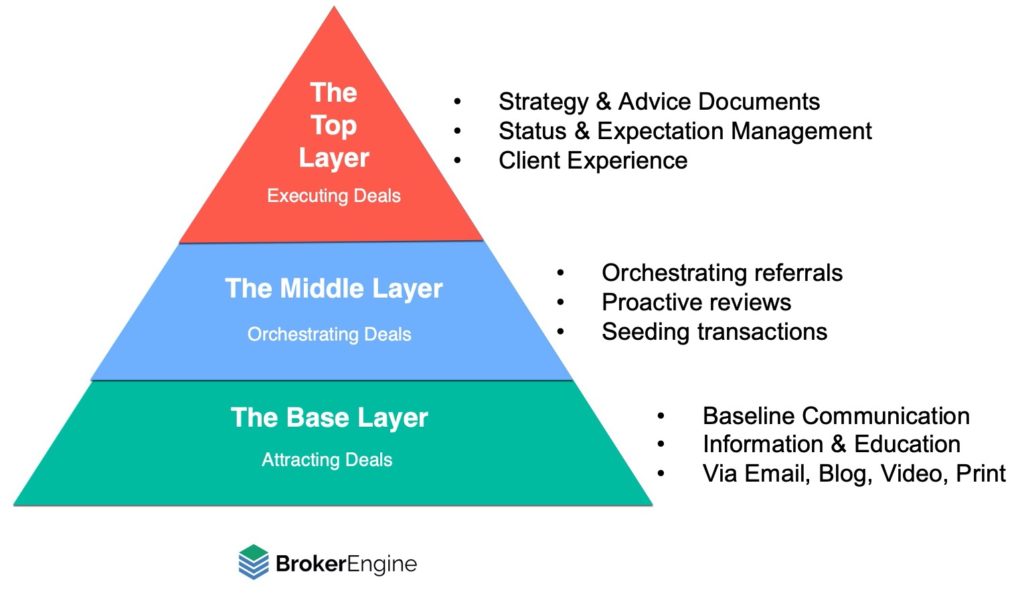 The Top Layer is for Executing a Deal. This governs how you deliver your advice, how you manage client expectations and how you deliver the loan experience, up to and beyond settlement.

The Middle Layer is for Orchestrating Deals. By "orchestrate", we mean stimulating new deal activity like refinances and referrals, as opposed to merely waiting for opportunities to materialise.

The Base Layer is for Attracting Deals. This involves engaging prospects and clients with information and education, whether or not a deal is on the cards at the moment.
The Top Layer: Executing Deals
The Top Layer is for communicating with prospects when you're mid-transaction. It begins when you start discussing a specific deal opportunity. And it ends once your post-settlement process is complete.
While most brokers tend to be effective when sitting in front of clients, the Top Layer is about so much more than that. It's about delivering a seamless overall experience.
And here are 3 ways to do that:
Strategy & Advice Documents
Deal Status Management
Expectation Management
Strategy & Advice Documents
Aggregator software is designed for loan submission and compliance.
But what it doesn't do is generate impressive Loan Strategy and Advice Documents that present your recommended course of action in a professional, clear and compelling way.
For many years I've used the Loan Strategy Report Process™ to deliver advice. The big advantage is a 90%+ sales conversion rate, even to cold leads.
Here's an overview of how this document is structured: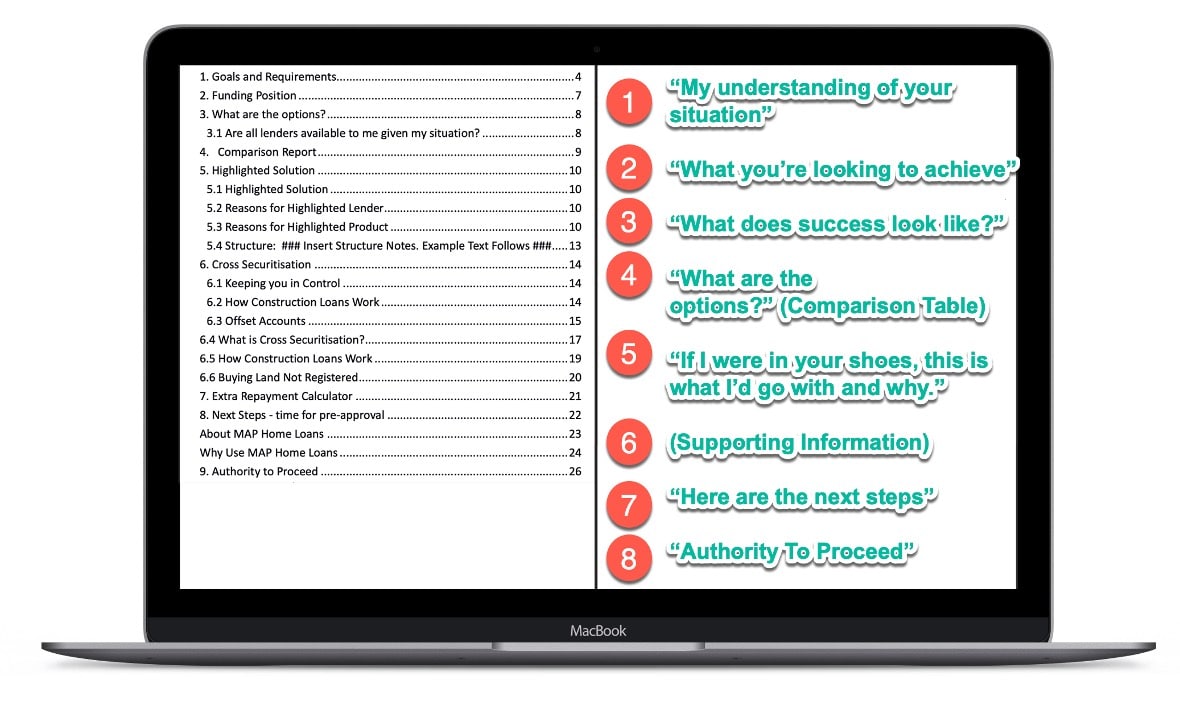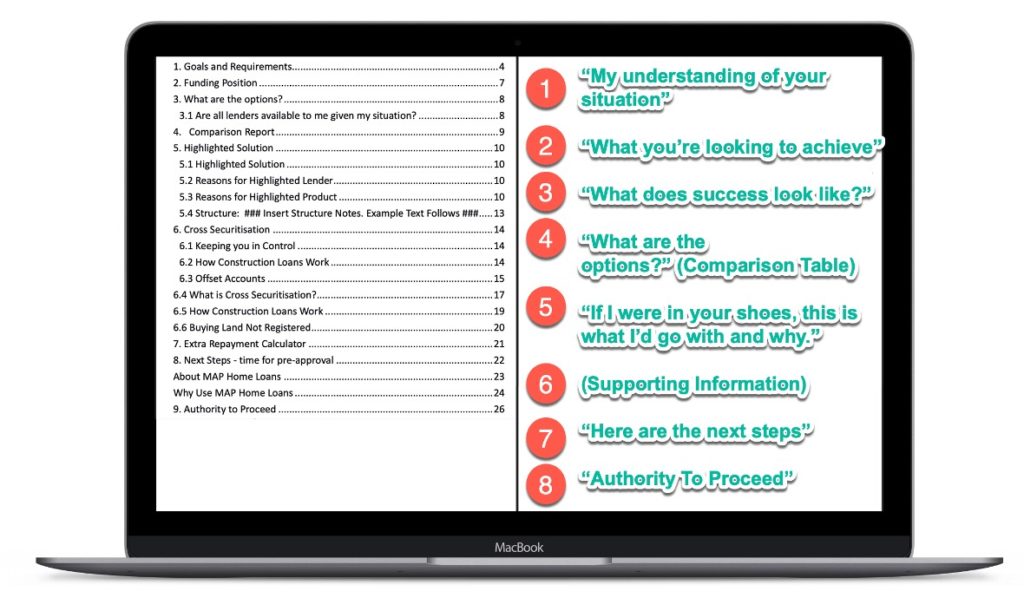 The document itself is dynamically generated by BrokerEngine software (sign up for a demo here) and is specific to the client's situation.
For more tips on sales process structure, check out our article on The Ideal Mortgage Broker Sales Process.
Deal Status Management
The next Top Layer strategy is around deal status management. Status management is keeping clients informed in real time about where their loan is at.
Doing this right achieves two things:
Your client feels reassured that you're on top of everything and they don't need to worry.
You and your team are saved from multiple "Where's-my-loan-at?" phone calls, so you can focus on delivering value.
We've built very detailed workflows in BrokerEngine software that automatically keep the client informed (as well as professionals such as referral partners, real estate agents, solicitors etc.), so they're never in doubt as to current deal status.
Expectation Management
Status management is telling the client what IS happening. Expectation management is telling the client what's going to happen so they can get ready.
When it comes to lending, the fewer surprises, the better.
Once simple way to manage client expectations is with a "Progress Bar" that you include in your communications.
Here's the Progress Bar I use, which is also featured in my book, The Smart Borrower's Roadmap:


Using a Progress Bar orients the mortgage borrower with a sense of where they are now and what will happen next.
Expectation Management With Document Collection
Another opportunity to manage client expectations is during your document collection process.
From the client's perspective, document collection is arguably the biggest friction point in the loan application process. We use the FinanceVault feature within BrokerEngine to automate this step. One of the expectation management features is the distinction between Due Now vs Due Later requirements: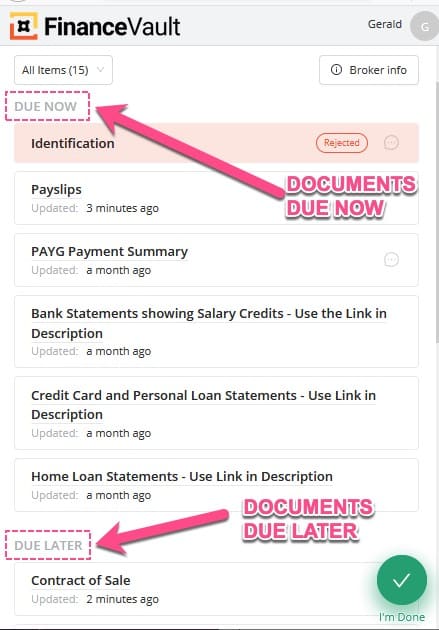 By informing clients of Due Later requirements, you give them a chance to prepare. As a result, they're not surprised by a last-minute request.
The Middle Layer: Orchestrating Deals
The Middle Layer is how you communicate with prospects in order to Orchestrate Deal opportunities.
In the Middle Layer, there are several ways you can stimulate deal activity. Here are two of my favourites:
Orchestrating referrals
Orchestrating referrals is a term coined by ace marketer Dean Jackson.
Rather than just waiting for customers to refer, when you orchestrate referrals, you set up the conditions for referrals to happen like clockwork.
Here's an overview of one method that works like gangbusters: The Trojan Horse Referral Strategy.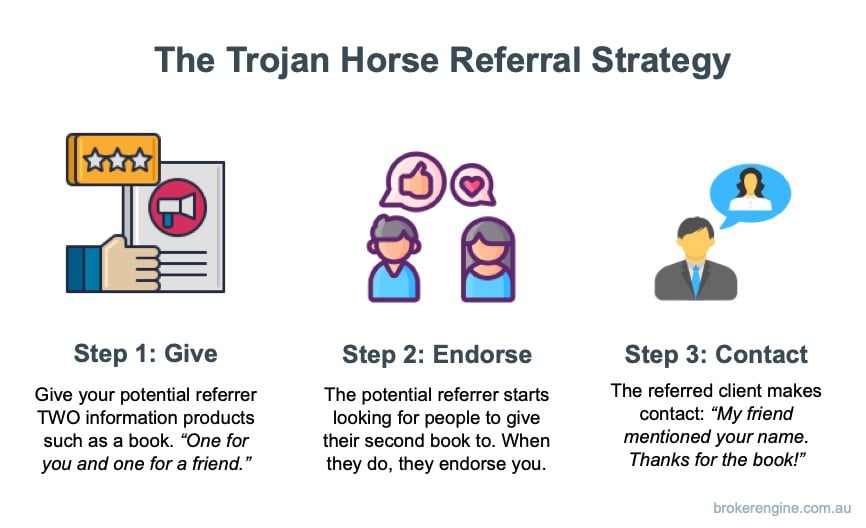 Here's how it works:
You give your potential referral partner something of value. In my case, I give them TWO copies of my book, "One for the client and one for a friend."

If you don't have a book, you can provide something else of value (e.g. a booklet or free report). Or, you can enquire about "Private Labeling" my book with your own title under your own name (Book a phone call to explore further).

Your referral partner now LOOKS for opportunities to refer. Now that your referral partner has two copies of your book / booklet / report, they start thinking about WHO they could give their spare copy to. And when they do, they'll usually say something like, "My broker gave me this… there's some great info inside." Instant endorsement!

The referred person makes contact and says, "My friend gave me a copy of your book/booklet/report. I'm also a first home buyer / home owner / investor and am looking for help…" BOOM!
Does this scenario play out like this every time?
No, of course not.
But it happens often enough to be extremely worthwhile.
And it puts the power in YOUR hands rather than just "waiting for clients to refer".
Proactive Client Reviews
Another important activity in the Middle Layer is to conduct PROACTIVE Client Reviews.
One of the reasons why brokers earn trail commission is that we're supposed to be proactively supporting the client throughout the life of their loan.
And from a more selfish perspective, a client who consistently feels like you're looking after their interests is likely to:
Stick around longer (forever, ideally)
Refer friends and family
Be relatively easy and trouble-free to service
Proactive client reviews can also uncover new loan opportunities such as refinances. For our complete process, see this article on How To Conduct The Perfect Mortgage Client Review.
The Base Layer: Attracting Deals
Finally, there's the Base Layer: engaging prospects and clients with information and education, whether or not a deal is on the cards right now. The Base Layer has two main purposes:
To Fence Your Herd. In other words, to protect your client base and prevent them from wandering off and seeking other solutions.

To Feed You With NEW Opportunities. i.e. to motivate and attract incoming enquiry when your prospect is ready to transact.
To make the Base Layer work, you need the right tactics, executed in the right way, on a consistent basis.
The key word is CONSISTENCY. It's easy to do one quality email newsletter. It's not so easy to send out a quality email newsletter each and every month.
To help you select and prioritise Base Layer strategies, we developed the Commitment Ladder.
The idea is to start at the bottom and execute each strategy one layer at a time, before taking on another commitment.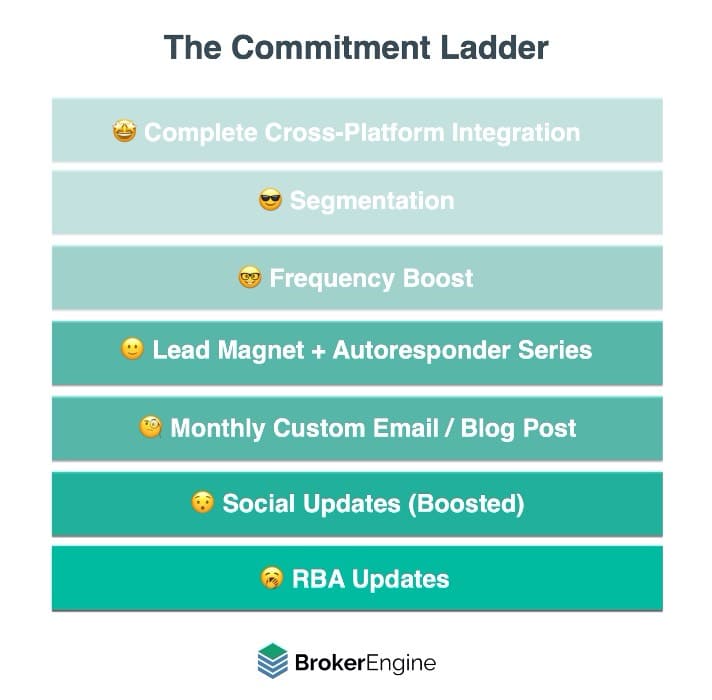 Here's some more detail:
RBA Updates: it's essential that you keep your clients and prospects abreast of interest rate movements. Almost every broker does this. So if you don't, it's going to look bad. Make sure you do this as a minimum.

Social Updates (Boosted): boosting content on Facebook to your subscribers / fans / audiences on a regular basis. The advantage is that it is quicker and easier than sending an email newsletter.

Monthly Email and/or Blog Post: RBA Updates and other "mass produced" communications are better than nothing. But they also offer very little added value. A monthly email newsletter and/or blog post has the potential to convey your unique perspective.

Lead Magnets & Automation Sequences: a Lead Magnet is a free giveaway in exchange for a prospect's email address. And Automation Sequences are a series of emails that convert a subscriber into a sales-ready lead. At this level, you're publishing content designed to magnetically attract new subscribers into your practice.

Frequency Boost: next, we recommend increasing the frequency of your activity. For example, publishing 3 social media posts per week instead of one. Or promoting your content on 5 social media platforms instead of 3. This is often easier than adding new initiatives.

Segmentation: this is where you're communicating to different audiences in customised ways. For example, custom messaging for First Home Buyers vs Expats vs Investors. It sounds great in theory (and it is!) but again, the name of the game is consistent execution.

Complete Cross-Platform Integration: this is the level where ALL your communications are talking to each other to provide a tailored experience to every person on your database, all the time, no matter where they are in your client journey.
The Holy Grail Of Mortgage Marketing: INTEGRATING The 3 Layers Of Marketing Automation
Each of the 3 layers has a different function and each has its own unique set of requirements.
The challenge lies in INTEGRATING the layers. Here are some common challenges with legacy solutions:
Aggregator software is OK for loan submissions, but it's typically not tuned for highly customised workflows and expectation management.

Most systems can cope with reactive enquiries, but won't support proactive opportunity workflows.
Email marketing platforms such as Keap, Mailchimp and ActiveCampaign are good for email campaigns, but are not completely integrated with each client's lifecycle. So you end up either sending generic information only, or risk confusing prospects with the wrong message.
This has been the problem we've been working towards solving over the last several years. And I'm excited to announce we may have done just that…
Now we've combined the core BrokerEngine Software with BrokerEngine Marketing Suite.
Marketing Suite brings powerful "Base Layer" functionality into your practice, completely integrated with your "Top" and "Middle" layers.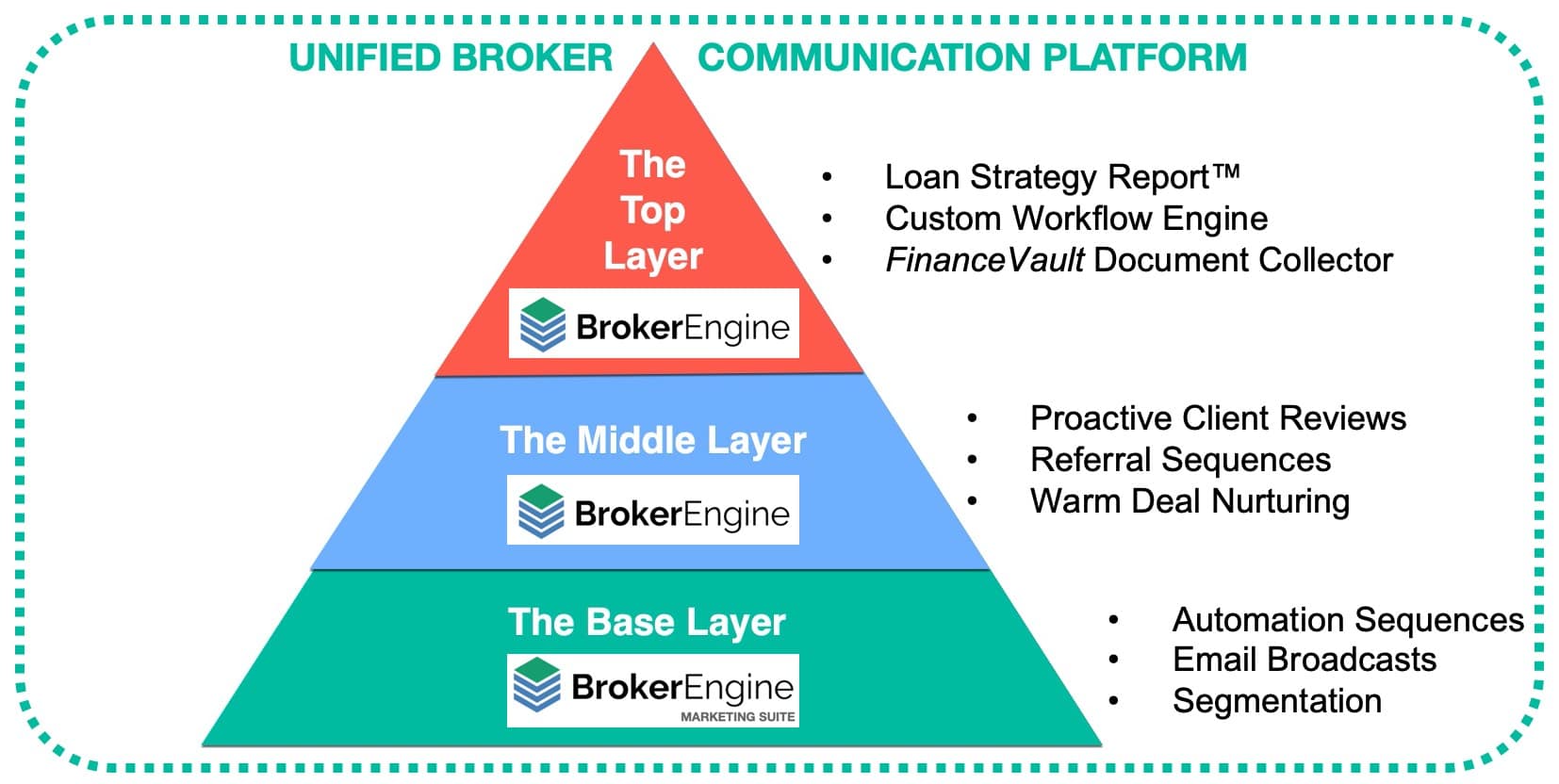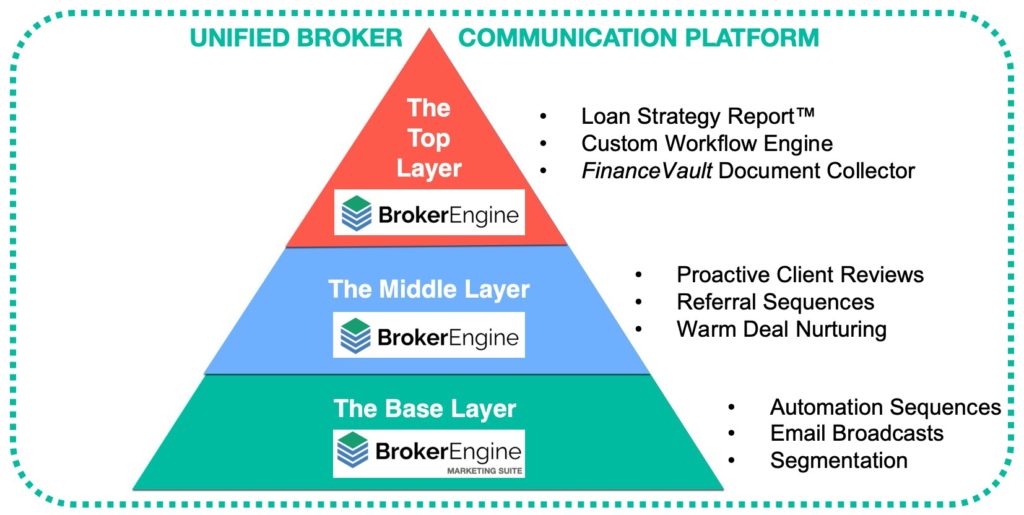 If you'd like to take a closer look at BrokerEngine, please sign up for a free demo.
I hope you'll apply some of the ideas in this article to deliver an outstanding client experience, grow your practice and be a strong ambassador for our great industry.